Chris Latham wins Beaumont Trophy
Chris Latham takes sprint win in Northumberland as Laura Massey wins women's Curlew Cup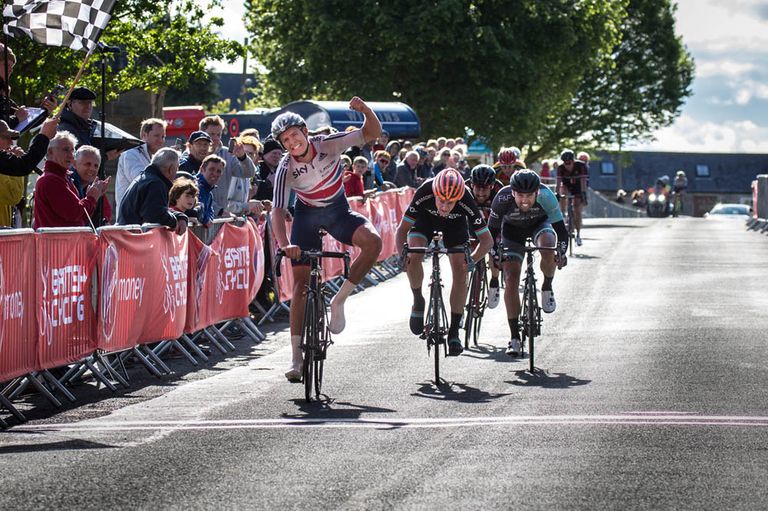 Chris Latham (Great Britain National Team) sprinted to victory in the Beaumont Trophy in Northumberland on Sunday, while in the Curlew Cup Women's Road Series it was Laura Massey (IKON Mazda) who edged to victory.
The duo were the winners at the end of a weekend of events based around the county, with the two road races based on a circuit near Stamfordham forming the highlight.
Latham, 21 and from Bolton, was part of a large break of up to 24 riders which escaped early in the 117-mile race, which took in two small laps and four large circuits which featured the tough Ryals climb.
With most of the big teams having riders in the break it was allowed to go clear, and at one point there were three GB riders at the head of affairs. In the sprint for the line Latham just held on for the win, while Stewart took second ahead of Yanto Barker (One Pro Cycling) in third.
>>> Brennauer wins Women's Tour as Hannah Barnes takes final stage
In the morning's Curlew Cup, the women took on 62 miles of largely the same terrain, but just like the men, there was little to split the stronger riders and Massey took a narrow victory ahead of Giordana Triton duo Elizabeth Holden and Eleanor Dickinson in second and third respectively.
And with Series leader Nicola Juniper – who tried to jump clear on the last lap but was well marshalled back by her rivals' team-mates - and Giordana Triton team-mate Annasley Park also finishing in the top ten, they secured the team prize, with Juniper holding on to the overall lead at the half way stage.
Results
Beaumont Trophy
1. Chris Latham (Great Britain National Team)
2. Tom Stewart (Madison Genesis)
3. Yanto Barker (One Pro Cycling) all same time
Curlew Cup
1. Laura Massey (IKON-Mazda)
2. Elizabeth Holden (Giordana Triton)
3. Eleanor Dickinson (Giordana Triton) all same time
Video: Secrets of the toolbox - JLT Condor