Chris Newton wins the Lincoln GP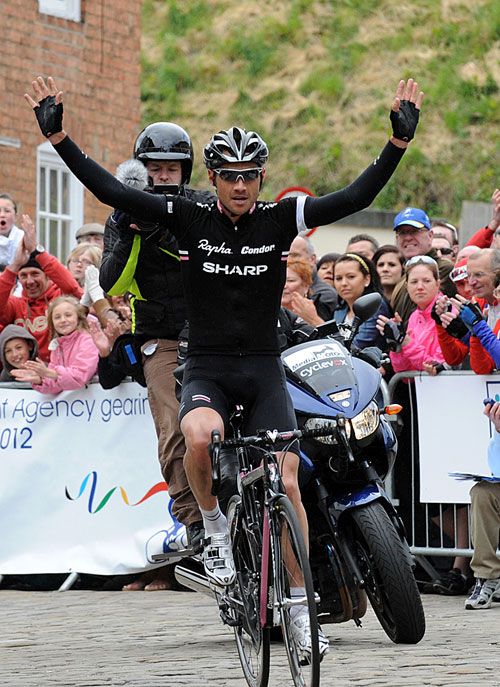 Lincoln Grand Prix 2010 photo gallery by Andy Jones>>
Rapha-Condor-Sharp rider Chris Newton has won the 55th edition of the Lincoln Grand Prix, outgunning breakaway companion Philip Lavery (Team Ireland) on the final climb of Michaelgate.
The pair had both been part of the original nine-man break of the day, which also inclulded Dean Downing (Rapha-Condor-Sharp), Jack Bauer (Endura), Casey Munro (Pendragon-Le Col-Colnago), Simon Gaywood (Team Corley Cycles), Alex Wetterhall (Team Sprocket), James Stewart (Team Raleigh) and Kit Gilham (Sigma Sport-Specialized).
On a day that saw the composition of the front group stubbornly changing, the peloton fragmented behind, as Russell Downing, Geraint Thomas, Ben Swift, Simon Richardson, Marcin Bialoblocki, Yanto Barker, Darren Lapthorne, Zak Dempster, Jonny McEvoy, Andrew Tennant and Ian Bibby jumped across and forced the pace. With two laps to go, the star-studded lead group had been whittled down to a dozen.
Soon after the selection, Newton and Lavery tested the water on the narrow descent at the back of the circuit - and got the crucial gap. The pair worked well together to stave off the chase behind, carving out a 36 second lead as the bell rang.
At the top of brutal 1-in-6 Michaelgate for the tenth - and penultimate - time, Newton waited for Lavery, who was 50 metres in arrears. Next time round, the young Irishman would not be so lucky.
Ten years after his first win in Lincoln, Newton put his teenage companion to the sword on the lower slopes of Michealgate. Swinging round the final bend into Castle Square, he had the margin of victory and presence of mind to take both hands off the bars and savour the win - his second Premier Calendar triumph of the year after the Tour DoonHame, putting him into the lead of the competition.
19-year-old sensation Lavery crossed the line seven seconds later to take a fine second place, while Simon Richardson (Sigma Sport-Specialized) furthered his Premier Calendar challenge with third, clipping off the chase group late on the last lap.
Defending champion Russell Downing (Team Sky) had to settle for sixth place.
Meanwhile, a couple of crashes in the feed zone saw Tom Southam (Rapha-Condor-Sharp) and Dan Fleeman (Team Raleigh) hospitalised with suspected broken bones.
Results: 55th Lincoln Grand Prix
1. Chris Newton (Rapha-Condor-Sharp) 86 miles in 3-23-13
2. Philip Lavery (Team Ireland) at 7secs
3. Simon Richardson (Sigma Sport-Specialized) at 49secs
4. Alex Wetterhall (Team Sprocket) at 54secs
5. Ian Bibby (Motorpoint-Marshalls Pasta) at 1-09
6. Russell Downing (Team Sky) at 1-11
7. Marcin Bialoblocki (Wilier-Bigmaggys.com-Prendas Ciclismo)
8. Jack Bauer (Endura) at 1-12
9. Jonny McEvoy (Motorpoint-Marshalls Pasta) at 1-13
10. Yanto Barker (Pendragon-Le Col-Colnago) at 1-14
Best U23 rider: Philip Lavery (Team Ireland)
Best East Midlands rider: Dave Clarke (Pendragon-Le Col-Colnago)


Chris Newton's winning move
Russell Downing
Chris Newton wins
Related links
Lincoln Grand Prix 2010 photo gallery by Andy Jones