Colombian cyclist Fabián Puerta tests positive for steroid Boldenona
The keirin world champion has been provisionally suspended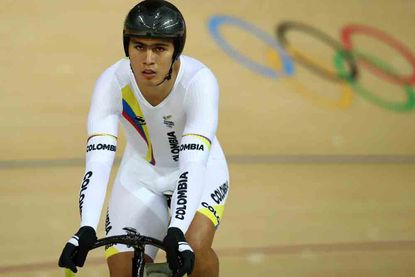 Colombian Fabián Puerta, keirin world champion and Fernando Gaviria's brother-in-law, has tested positive for steroid Boldenona.
The Union Cycliste Internationale (UCI) listed Puerta as being provisionally suspended on Monday, in an update on its website.
He failed the tests on June 11, during the national track championships in Cali.
The anabolic steroid Boldenona brings an immediate suspension. Puerta is unable to compete until the governing body reviews the case.
At the world championships in Apeldoorn, The Netherlands, 27-year-old 'Chispas' beat Japan's Yuta Wakimoto to take the Keirin gold medal. He also competed in the 2012 London Olympic Games.
Puerta is married to track cyclist Juliana Gaviria, the sister of Quick-Step's star sprinter Fernando Gaviria. Gaviria won two stages in the recent Tour de France.
In its list updated on Monday, the UCI also named cyclists whose cases were already published in the recent months including Movistar's Jaime Rosón. The Spaniard was suspended in June after returning biological passport anomaly.
Thank you for reading 20 articles this month* Join now for unlimited access
Enjoy your first month for just £1 / $1 / €1
*Read 5 free articles per month without a subscription
Join now for unlimited access
Try first month for just £1 / $1 / €1