Contador case splits experts' opinions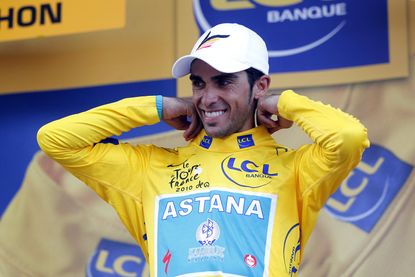 Alberto Contador has received backing from one top scientific expert over his clenbuterol and plasticizers - plastic residues - cases on Wednesday, but at the same time another scientist has asserted that the plasticizers at least could be indicative of doping.
Traces of plasticizers were allegedly present in Contador's blood sample on July 20 - although the rider has not been officially notified of this - whilst clenbuterol has been confirmed as present on two days, July 21 and July 22, in one of Contador's urine samples. All of the tests were carried out by a German laboratory, in Cologne, after which somebody decided to leak the results to the media.
Douwe De Boer, a Dutch professor at the University of Maastricht and an antidoping expert in clenbuterol, has told Spanish newspaper MARCA that "the contaminated food is, scientifically speaking, the most probable [explanation for clenbuterol] and the transfusion theory, the least probable."
However, at the opposite end of the spectrum, Spanish professor Jordi Segura, who runs Barcelona's Anti-Doping lab, has claimed in another newspaper, 'AS' that the levels of plastic in Contador's blood "are indicative of a transfusion."
"Blood bags contain components called plasticizers, which do not disappear when blood is stored in them."
"As these remains are also present in other commonly used articles made of plastic, a high level has to be detected in order for it to be considered positive."
However, that theory was rubbished by De Boer, who argued that "everybody would test positive, including you and me. We all have plastics in our body."
De Boer also argued that "if the meat Contador ate was highly contaminated with clenbuterol, then it would be enough for the kind of small percentage that has appeared."
"The most probable scenario is that it came from pork or beef."
Neither expert is entirely free of indirect links either to the case or to the tests themselves.
Segura was one of the scientists responsible for the creation of the as yet unauthorized plasticizers test which he feels so convinced is, as he says, "one of the most important advances in anti-doping in the last few years." (Segura is also the legal custodian of the blood bags seized by police during the Operacion Puerto anti-doping probe.)
Meanwhile, De Boer was hired by Contador to help clear his name, according to Contador on the UCI's recommendation.
What there is no getting away from is that independently the plasticizers tests wouldn't stand up in court because it isn't yet legally valid.
There's also the fact that the alleged plasticizers positive and the clenbuterol positives are on different days. How then, argue Contador's supporters, is it possible that the clenbuterol came from a blood bag - as has been suggested by, amongst others, anti-doping expert, Rasmus Damsgaard - if the positives did not happen simultaneously.
However, other experts have said that the plasticizers results, even if unofficial, could form part of an overall report complied to accuse an athlete of doping.
Yet another solution would be for the the UCI to take up the offer made by Contador to have his samples frozen for five years, by which time the plasticizers test would be legally valid.
In the meantime, though, the media feeding frenzy over Contador's positive would continued unchecked, doing yet more damage to cycling's image. The only conclusion at this stage in the game is that it seems that no solution to the Contador case would resolve it completely to everybody's satisfaction.
Related links
Alberto Contador: The clenbuterol, the beef excuse and traces of plastic
Spanish authorities investigate source of Contador's mystery meat
McQuaid quiet on Contador case but says Spain can do more
Did Contador have a transfusion during the Tour?
Contador points finger at imported meat for clenbuterol positive
Contador tests positive for clenbuterol says governing body
Thank you for reading 20 articles this month* Join now for unlimited access
Enjoy your first month for just £1 / $1 / €1
*Read 5 free articles per month without a subscription
Join now for unlimited access
Try first month for just £1 / $1 / €1