Crash injury forces Dowsett out of Redlands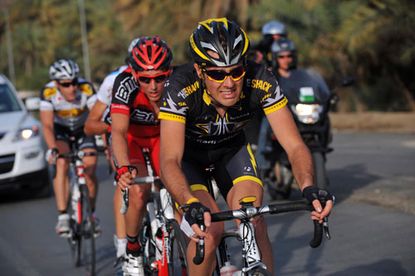 British rider Alex Dowsett was forced to pull out of the Redlands Bicycle Classic (March 25-28) in America on Friday due to injuries sustained in a crash the previous weekend.
Dowsett completed just 30km of the second stage of the Redlands Bicycle Classic in California before withdrawing due to pain. The injuries are a result of a crash in the closing lap in the final criterium stage of last weekend's San Dimas Stage Race (March 19-21), also in California.
Despite the crash, Dowsett completed the San Dimas race, finishing 16th overall.
Dowsett sustained internal bruising, and has been told to rest by Trek-LiveStrong manager Axel Merckx. The 21-year-old suffers from the blood-clotting condition haemophilia, and any injury requires caution.
Dowsett was signed to the US-based Trek-LiveStrong under-23 team at the end of 2009, and has been in action in 2010 at the Tour of Qatar and Tour of Oman. He made his mark on both races, taking part in day-long breakaways in each event.
One of Dowsett's key objectives for the year is the under-23 men's time trial in the European Championships in Turkey during July.
Related links
Dowsett punching well above weight in second professional race
Dowsett signs with Trek-LiveStrong
Thank you for reading 5 articles this month* Join now for unlimited access
Enjoy your first month for just £1 / $1 / €1
*Read 5 free articles per month without a subscription
Join now for unlimited access
Try first month for just £1 / $1 / €1