Craven wins Clayton Velo Classic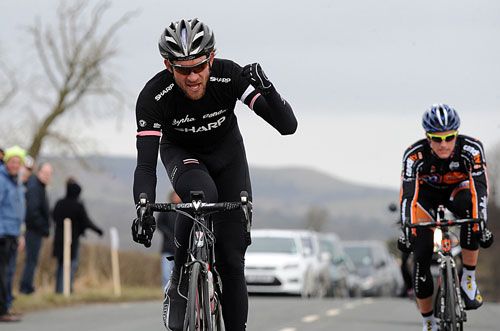 "Initially I thought we would just drive it and wait for more guys to come across but it became obvious that the whole bunch sat up and we realised we were not going to be caught, so we kept on going. For most of the time I thought Pete would take it as my legs were just sluggish. Pete put in two attacks because I wasn't really working and I was looking so tired.
"The year has started well and the team is looking really strong. I'm looking forward to the rest of the season."
Second placed Pete Williams was philosophical about his race outcome. "Yeah, I was feeling strong but I was a bit tired from last night's Revolution so I could ride hard but not very, very hard. I kind of underestimated Dan for the sprint and I messed up the sprint as well which was annoying.
Dean Downing sprints for sixth spot
Subscribe to Cycling Weekly magazine>>
The pair had escaped with five laps to go of the 14 lap handicap event held over the Bashall Eaves circuit under the shadow of a snow capped Pendle Hill.
Chris Newton checks his gears
Dan Craven wins
Dan Craven (Rapha-Condor-Sharp) won the 43rd Clayton Velo Spring Classic on Sunday after out-sprinting his breakaway companion Pete Williams (Motorpoint-Marshalls Pasta).
Afterwards, Craven gave Cycling Weekly his take on the race. "When the whole group was together it was obvious there were attacks going. Ben Greenwood had made an attack but had been brought back and then I saw Pete attacking and no one responded. I was close to the front so I thought I cannot let someone like that go, so I went and no one came with us.
"Chasing him down woke my legs up. It kind of worked against him in the end. So for three laps or so I hadn't really been working as hard as he had but by the final lap it was fair. Coming in to the final straight I got on to his wheel and jumped him and seemed to have a bit more power in the end.
"Everyone had been tapping through to get the groups back and when it came together everyone was taking turns to go but I was watching Chris Newton more than anyone. But when Matt Cronshaw came back I just went straight over the top and then Dan came across and that was it.
"I kind of felt Dan was struggling a bit and I just wanted to commit really and get away. I fell in to the trap. That was a mistake but I know how hard you have to ride to stay away on that circuit. Anyway, it's all good training for the bigger races later in the season."
RESULTS

Clayton Velo Spring Classic 2010

1. Dan Craven - Rapha Condor Sharp
2. Pete Williams - Motorpoint Marshalls Pasta
3. Chris Newton - Rapha Condor Sharp
4. Jonny McEvoy - Motorpoint Marshalls Pasta
5. Ian Bibby - Motorpoint Marshalls Pasta
6. Dean Downing - Rapha Condor Sharp
7. Tom Barras - Team Raleigh
8. Ben Greenwood - Rapha Condor Sharp
9. Alistair Rutherford - Science In Sport
10. James Sampson - Motorpoint Marshalls Pasta
Dan Craven and Pete Williams