CW Exclusive: Lance & Le Tour book extract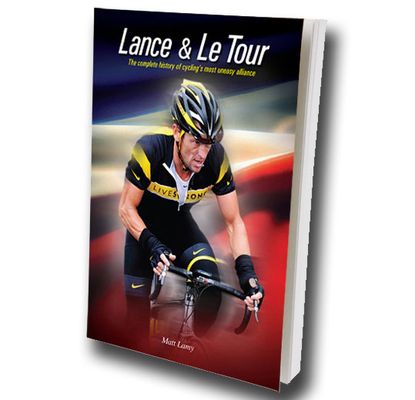 Get The Leadout Newsletter
The latest race content, interviews, features, reviews and expert buying guides, direct to your inbox!
Thank you for signing up to The Pick. You will receive a verification email shortly.
There was a problem. Please refresh the page and try again.
Featuring new and exclusive interviews with the people closest to Lance Armstrong, Lance & Le Tour takes readers behind the scenes of the greatest Tour de France rider's often fraught - and continuing - relationship with the biggest bicycle race in the world.
What was it like to ride alongside Armstrong to his first seven Tour victories? His former team-mates, and some of the biggest names in cycling, Viatcheslav Ekimov, Roberto Heras, 'Chechu' Rubiera, Victor Hugo Pena, George Hincapie, Mark Gorski and Graham Watson talk to author Matt Lamy and guide you through each of Armstrong's wins at the Tour, providing unique insights and stories from his years of dominance.
Plus there's background into the Armstrong story with the likes of his first team manager Eddie Borysewicz, former Motorola team-mate Sean Yates, Armstrong's brain tumour surgeon Dr Scott Shapiro, Trek's Scott Daubert, sports psychologist Professor Ian Maynard and more.
Here we present an extract from the book's opening chapter with Mark Gorski, Armstrong's US Postal Team General Manager from 1995 to 2003, giving his take on Armstrong's reappearance at the Tour in 1999.
1999: The Greatest Comeback
Perhaps the biggest pre-race favourite for overall victory at the 1999 Tour de France was Alex Zülle, a Swiss star, double Vuelta a Espana winner and a former member of the Festina squad that had been expelled from the Tour in 1998.
Zülle had served his ban and left Festina for the Spanish Banesto team, which had supported Miguel Indurain to his five Tour wins and knew what it took to succeed at the biggest race in the world. Also expected to be in the mix was world time trial champion Abraham Olano, who led the powerful ONCE squad; and Ivan Gotti, who led the Polti team and had taken his second Giro d'Italia title earlier in the year.
Despite their individual successes, none of these riders really knew what it took to win the Tour de France, so the way was open for a new champion. But on the eve of the race, within the US Postal management, the idea that Armstrong could be that champion was taking a back seat to crucial housekeeping duties.
"As the sort of business manager - the general manager of the team - it was a stressful lead-up to the prologue for me," Mark Gorski remembers. "We were negotiating with Lance and his agent Bill Stapleton for his contract, we actually revised his contract for the remainder of 1999 and for 2000 and 2001 literally in the two or three weeks leading up to the Tour, and the days leading up to the Tour, and even the hours leading up to the start of the prologue - it was crazy.
"After US Postal's major backer Thom Weisel went through the financial experience of personally covering Lance's bonus payments in 1998 Thom said, 'We've got to find insurance to underwrite this.' So I spent months working with insurance underwriters negotiating policies that would cover bonus payments to Lance for 1999, and ultimately 2000 and 2001. And I was also undergoing negotiations with Lance on salary and bonuses, which were very substantial - into the seven figures.
"I will never forget it was two o'clock in the morning on July 3rd - the day that Lance would go on to take the yellow jersey at the prologue - and I was in the team hotel in Nantes going through everything and actually signing Lance's agreement and executing it - faxing it to Bill at his offices in Texas - and at the same time executing this insurance contract.
"I had to use the fax machine at reception at the hotel because it all needed to be done, signed and executed before the start of the prologue, which was just hours away. And ultimately there were millions of dollars of bonus payments that resulted from all of this.
"The funny thing is that I can remember being with Lance in the team vehicle - we didn't have a bus at that point, we just had a campervan - and we were going over to the opening ceremony for the Tour, but Lance and I were in the middle of these massive negotiations. We would check in with each other about this business stuff, but at the same time he was getting ready for maybe the biggest day in his life in cycling. So there were all these other currents going on."
Still, these problems didn't affect Armstrong's prologue performance. "I remember being in our team campervan and Lance was the last rider to depart," says Gorski. "I think George Hincapie and Kevin Livingstone were there in the camper and Johan Bruyneel was in there as well. Lance put his time trial suit on, and his last words to all of us were: 'Get ready to watch the show.' And as he walked out we just looked at each other and shook our heads, and said: 'He is one of a kind.' The level of confidence and showmanship all wrapped in one human being... there's just nothing like him. And what a show he gave us."
Much has been written about Armstrong in the years since that moment, but Gorski remembers it could have all been so different. "I was in the car behind Lance with Johan and Jeff Brown, who was the mechanic, and there was a pretty good grade climb near the end of that prologue. We were watching like hawks and we could see Lance was debating whether he should stay in the big ring or drop into the little ring as he was climbing, and he decided to go to the little ring. As he shifted, for a brief moment, the chain actually went off the ring.
"Our hearts were in our mouths. I remember looking at Jeff, whose job it was to make sure that the derailleurs are tuned properly to stop that happening, but Lance jammed the shifter and corrected it almost instantaneously. He averted disaster but if he had lost his chain off of the ring it could have made the difference between winning and losing that prologue. That was the key moment.
"Then there was the explosion of emotion when he crossed the line and reached where we all were. That will be a memory that I will always treasure. I've heard Lance say publicly that in all his seven Tour wins that 1999 prologue was the most meaningful moment.
"I think all that had happened in the prior two or three years - from Lance's cancer diagnosis to chemotherapy to the struggle of the comeback, the ups and downs - meant that that moment was very significant. But even then no one knew what was going to come next.
"Nobody had any clue that it might mean winning the Tour, winning two Tours or winning seven Tours. All it meant was that this guy came back from his deathbed to win the prologue at the Tour de France.
"But right then I remember crying, breaking down in tears: tears of just disbelief, of joy. It was amazingly emotional for me."
To order your copy of 'Lance & Le Tour' by Matt Lamy visit the Cycling Weekly online shop, priced £9.99 + P&P >>
Thank you for reading 20 articles this month* Join now for unlimited access
Enjoy your first month for just £1 / $1 / €1
*Read 5 free articles per month without a subscription
Join now for unlimited access
Try first month for just £1 / $1 / €1
Get The Leadout Newsletter
The latest race content, interviews, features, reviews and expert buying guides, direct to your inbox!