Cycle Sport's Classic Race: 1990 Paris-Roubaix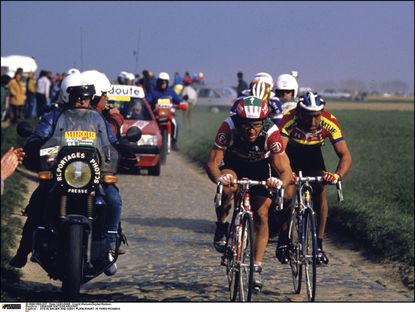 This article first appeared in the April 2010 edition of Cycle Sport magazine and is the first in a series of Classic Races in which we talk to the key protagonists in some of the greatest races of all time.
As soon as Eddy Planckaert and Steve Bauer crossed the line in the Roubaix velodrome they glanced across at each other. Neither of them was prepared to claim victory and, as it turned out, both riders had hit the line with their eyes tightly shut anyway.
And if they didn't know who'd won, it was unlkely anyone in the velodrome would be able to split them. Instead of a cheer, there was a suspense-filled 'ooh' as the two riders hit the line side by side, followed by a rising murmur of debate. Even the voice of the commentator that had been pumping out of the loudspeakers around the velodrome all afternoon went quiet. He didn't know who'd won either.
For more than ten agonising minutes the blazered members of the race jury scrutinised the photo finish pictures in a little hut at the back of one of the stands. The technology was up-to-date for 1990, though nothing spectacular by current standards, but it was all they had to go on. A slightly grainy, freeze-framed, black and white picture of the split-second the front wheels of Planckaert's Panasonic-branded bike and Bauer's Eddy Merckx hit the line. It took plenty of deliberation and even with the photograph and the straight edge of a ruler it was difficult to tell, but eventually they agreed and the head judge, a man named Joel Menard, announced their decision.
The Belgians in the crowd, and there were plenty of them, cheered. Planckaert collapsed into the arms of his sports director and older brother, Walter, and Bauer slumped onto the grass in the centre of the track, consoled by the helpers from his team. Damn, that was close. Eddy Planckaert had won Paris-Roubaix, the most demanding single-day bicycle race in the world, by less than a centimetre.
"It was a beautiful, beautiful day," he says. "It was more beautiful for me to win by a few millimetres than if I had won alone, five minutes in front of the next rider, because everyone remembers it."
Bauer and Planckaert: side by side on the cobbles. Not for the last time that day
**
Planckaert always felt he was destined to win Paris-Roubaix and become the first of the three cycling brothers to bring home one of those cobblestones as a trophy. Willy, 14 years older than Eddy, had been fourth in 1966 and Walter, ten years Eddy's senior, equalled that in 1973. But time was beginning to run out for Eddy to put the Planckaert name on the roll of honour of a race known as the Queen of the Classics. He was 31 and probably had a good few years left, but a couple of fifth places was the closest he'd managed to get. Every time, something went wrong. A puncture, a crash, a moment's inattention.
For 1990 he had returned to Peter Post's Panasonic team after two years with the ADR squad. Panasonic had a team packed with powerhouses and, with the fall of the Berlin Wall allowing riders from Eastern Europe to turn professional, Post had been quick to snap up East Germany's Olympic champion Olaf Ludwig and Russia's Vjatcheslav Ekimov. Panasonic also had the defending Paris-Roubaix champion, Jean-Marie Wampers, another Belgian, in their line-up. Post, as usual obsessed with victory, told his riders that they had so much talent in their team that it would be tantamount to a crime if they were not to win.
Planckaert woke up that morning and felt strong. In fact, he'd felt good all week. The previous Sunday, a puncture just before the Oude Kwaremont ruined his chances of a second Tour of Flanders victory. And although he didn't want to go too deep during Wednesday's Ghent-Wevelgem he was finding it surprisingly easy to follow the wheels and he barely felt the cobbles. Another puncture eliminated him from the final showdown. As he ate his breakfast on the morning of Paris-Roubaix he joked that he was owed some luck.
Bauer piles on the pressure, Planckaert follows, Van Hooydonck slips back
**
Like Planckaert, the Canadian Steve Bauer was built for Paris-Roubaix. He was stocky and strong and he ate up the cobbles. Although he wasn't brought up among the fields of Flanders and the region's broken roads, he felt comfortable there. Ever since turning professional, Paris-Roubaix appealed to him and he had made his home in Belgium so the roads were familiar. In 1988 Bauer finished eighth, a result that gave him the confidence to believe he could one day win it. Later that year he finished fourth in the Tour de France, but the week of the three big cobbled Classics still motivated him and was the big target of the first part of his season.
"The cobbles always suited me," he says. "I've got a small frame, not too tall, muscular, I guess a low centre of gravity, and I rode a small frame too. For Paris-Roubaix I had a bike with a long wheelbase with the saddle pushed back a little so I could use the hamstrings a bit more, keep the big gear going. It was like a Cadillac on the cobbles. I had a pretty smooth pedal stroke so that helped too.
"I always targeted that week, and I felt good. I'd gotten round the Tour of Flanders okay, and I was good at Ghent-Wevelgem [he was ninth]. On the Thursday I rode five hours, did most of the Paris-Roubaix course." Bauer knew the way. He had a good sense of direction and an eye for detail. "I was a fast learner and my friends used to call me 'compass head'. Even now, if you put me on my bike, I could probably ride that course off the top of my head."
It came naturally to him to memorise the perfect racing line. "There was one notorious section you turn left onto, I forget the name but I can picture it now, and if you go too wide you end up in this trough where you can puncture or even break a wheel. It's deep, so you have to be in the centre. It was better to lose a few places going into that corner than take it wide and crash or break something. Another thing, at Arenberg, after 100 metres, there was a section in the middle where four or five cobbles are just missing. It's a crater, but you had to nail it down the centre, you can't go on the edges in Arenberg otherwise you lose a lot of speed because it's even worse there, so you have to jump your bike over the hole. The guys who want to win know these things."
Both Planckaert and Bauer felt good that April morning and as they rolled out of Compiègne they were already concentrating hard and racing to win. "I did everything right that day," says Bauer. "I stayed in a good position all day and I was patient. I didn't rush and I chose my moments quite calmly."
Planckaert, on the other hand, was like a pea on a drum. "I felt like Eddy Merckx," he says. "It was probably the best day I ever had on a bike. I was running away with myself and Post and my brother [Walter] wanted me to wait."
He was in no mood to be cautious, he knew he had to get his strike in first. Being in such a strong squad, there was the added complication that one of his team-mates might deny him the opportunity. Stephan Joho, a Swiss rider with the Ariostea team, had attacked early on and was joined by Peter Pieters and Rob Kleinsman of TVM. A strong headwind was blowing and, with most of the race heading in the same north-easterly direction, it was going to be in their faces all day. As ever some big names fell by the wayside, and before things really hotted up, two former winners were more or less eliminated, as Eric Vanderaerden punctured and Dirk De Mol crashed.
After the Forest of Arenberg, a group of 20 or so got clear of the bunch. Ominously for the rest, there were five Panasonic riders in it. Planckaert, Wampers, Urs Freuler, Ludwig and John Talen. Post's team was holding a fist full of kings and aces.
**
Jean-Marie Wampers, the reigning champion and Planckaert's team-mate also felt strong and he fancied his chances of making it two in a row. Wampers was one of those riders who made the cobbled classics his speciality and the memory of arriving in the velodrome and outsprinting Dirk De Wolf in 1989 is the definining one of his career. It was the first time the race had returned to the velodrome after a three-year break while the track was resurfaced. From 1986 to 1988 they arrived on a wide boulevard in Roubaix, perhaps robbing the finish of some of some of its mysticism. For Wampers, the moment he entered the velodrome will stay with him for life. "It was the first time back on the track and the weather was quite good, so the crowd was huge. They were hanging over the wall and a lot of people were on the grass in the middle of the track, which is usually only for people working on the race. They didn't have the big television screen in those days so all the crowd knew was what the announcer in the stadium told them. It was like listening to the radio, so when we arrived it was the first thing they'd seen all day, and they went wild. They were so happy to see us, they greeted us like two pop stars."
When Planckaert attacked in pursuit of Joho and the other two with almost 100 kilometres to go, Wampers feared it was too early but nevertheless nodded his head at his team-mate's guile and quietly wished he'd been the one to make such a bold move. "I felt so good. I think I was the best guy in the race, honestly, I do. I had such morale from having won the year before and I was so strong."
Wampers found it frustrating to feel so paralysed. "One minus point is that Eddy got in the break before me. I could have attacked first, but Eddy was a smart rider, eh?" he says. "I thought it was too early, particularly to go alone, into the wind, but he knew once he was in front, the four of us would ride for him and protect him. Once Planckaert was ahead, there was no question of doing anything for myself. Post wouldn't have it."
Planckaert caught and eventually passed Joho's group, but the lead was never huge, a minute or so at most, and on straight sections the Panasonic-packed chase group could see the motorbikes following him up ahead.
Laurent Fignon took up the chase, applying the pressure on the cobbles, and every time a different rider in Panasonic colours sat on his wheel. "He attacked twice on the cobbles and he could drive for one or two kilometres at 60 kilometres an hour," says Wampers. "He was so good. I was lucky because I was strong enough to follow him." Fignon didn't even bother to ask Wampers to contribute because he knew the Panasonic rider was protecting Planckaert. Fignon was one of the last of the great Grand Tour riders to also be able to ride well in a cobbled Classic, but he was outnumbered, even if he was one of the strongest individuals in the lead group.
Panasonic lead into the Arenberg cobbles, setting up Planckaert's attack


**
"It's a methodical race," says Bauer. "You have to be in the right place at all the important times. I was a good bike handler and I could get into position for the cobbles, that was never a problem but you still had to get it done. Battling from roadside ditch to roadside ditch isn't for everyone."
At the front, the Frenchman Martial Gayant, and an unknown Belgian, Kurt Van Keirsbuick of the Isoglass team, had got across to Planckaert by the time they reached Bersee, with 60 kilometres to go. Until that morning Van Kerisbuick was Isoglass's reserve and had to quickly get changed and into the right mindset when his team-mate Martin Hendrickx woke up feeling unwell.
Fignon's unchained aggression helped Bauer and Panasonic's other rivals in the group behind Planckaert. "I was patient that day, but when the opportunity came, I went for it. Fignon was doing tons of work, he was over-working really, which was great for us because he brought the gap down to something that was manageable," says Bauer.
First the lanky frame of Edwig Van Hooydonck and then Bauer went across the gap, leaving Fignon behind. They were surprised none of the Panasonic riders went with them. "I countered an attack from Fignon and went 'boom' straight across to the break in really quick time," says Bauer.
Van Hooydonck, the lanky red-haired Belgian who had won the Tour of Flanders in 1989, was not having a good day and was riding on wits and know-how rather than pure strength. "Two weeks before the Tour of Flanders I was sick, with diarrhoea. I didn't finish the Tour of Flanders but I managed in Ghent-Wevelgem. I was not super but I was coming better."
Although he knew he did not have good legs when he woke that morning, his Buckler team manager, Jan Raas, told him he could ride his own race, see how things turned out. Raas and Post, the two Dutch team managers, had a fiercely competitive rivalry that threatened to spill over into spoiling tactics every so often. "We were the good guys, right," jokes Van Hooydonck. "We were the smaller team and Post was obsessed with beating us." So Raas was happy to see a rider in a Panasonic jersey win, was he? "Ha, ha, I wouldn't say that. No, no, not at all, but he didn't say we had to stop them winning first. We tried to win for ourselves. Usually."
In normal circumstances, Van Hooydonck would have been in his element. As an 18-year-old he had finished in the front group in the amateur Paris-Roubaix, up there with stone-faced Russians and hardened Belgians, some almost twice his age. And the headwind should have been to his liking too. "I liked the wind in the face," he says. "It encourages the strong to the front and the weak get blown backwards."
But Van Hooydonck went into the race feeling cautious. "Sometimes when you have good legs you do too much in the race, chasing everything, attacking all the time," he says. "When you are strong you can do stupid things. When you are not strong, you are worried all the time you don't have much left so you do it easy, easy, easy and you can make a better result of it. That's how it was that day. It was survival, just try to stay with them, not make too much effort."
When Planckaert attacked so far from the velodrome, some of his rivals looked at each other and shrugged, Van Hooydonck says. "He was either super, super good, or he was going to kill himself."
Laurent Fignon and Urs Freuler. The Frenchman tried to chase but Panasonic riders were all around him
**
Frightened that there was a big group closing in on the leading six, Bauer wanted to try to get rid of a some more riders, so he launched a severe attack at Camphin-en-Pévèle with around 20 kilometres to go. Then, as now, it is one of the worst sections and Bauer's move was so strong that even Planckaert, who had looked sublimely smooth, could not react immediately.
The Belgian did not panic. "Bauer was very classy, he was a good boy, but it was important for me not to do anything silly." Planckaert took his time to ride over without extending himself into the red. Van Hooydonck, feeling tired by now, made more of a meal of it.
The difficulty so late in the race was having good information. 'You didn't have the sport director in the car coming up to tell you what was happening behind," says Bauer. "We didn't have race radios, so you got your gaps from the guy on a motorcycle with a chalk board. You pretty much couldn't rely on that at all, so you had to race with your sense. You knew there was a group behind, you knew they'd be chasing, so you just kept pressing on."
Bauer wasn't too concerned about Van Hooydonck or the possibility of a Belgian combine. There was never any chance of a Panasonic rider helping a Buckler man or vice versa. In fact, Bauer hoped to exploit that little rivalry, and he may well have been able to if Van Hooydonck had been capable of doing anything more than follow. "I think he was a little bit on the tired side, but I thought he might counter one of my attacks," says Bauer. The priority was to try to shake off Planckaert. "Man for man, Planckaert had proven to be faster than me in the sprint. He had been a bunch sprinter, so my tactic was to try to get away, but he wasn't having any of it."
Van Hooydonck was hoping for a miracle. "I thought if there was a chance to get away very late maybe Planckaert and Bauer would look at each other and hesitate for a moment, but I was very tired and every time Bauer attacked it took me longer to get up to the wheel so I knew my chance was very small."
Behind them, Gayant was chasing alone, with Wampers leading the next group. Bauer and Planckaert took turns on the front and Van Hooydonck sat on the back. Bauer led them round the right-hand bend through the gates and onto the concrete track and was shocked that Gayant and Wampers were almost upon them. The three riders had gone to the top of the banking, allowing the other two to hug the racing line and draw level with them.
"It was a bit of a surprise, I gotta admit," says Bauer. "I knew they wouldn't have give up but I had no idea they were that close. We were up the banking so it wasn't a real factor, it was easy to get onto them as they came by underneath."
One thing Bauer was counting on was that Gayant and Wampers would be tired from the chase, and he was right. Gayant had been out there for a while, and Wampers had plundered his reserves to get across. "I attacked and Bontempi, Madiot and these guys couldn't follow me," he says. "I think that shows I was the strongest, but the problem was I had closed about 30 seconds in about 1.5 kilometres, and I did it in one go. When we caught them, they were already on the track and it was too late. I needed just one or two minutes to rest. It was still too far from the finish line, about 650 metres, for me to even think about going straight past them. I wouldn't have made it. Nor would Gayant."
Jean-Marie Wampers leads into the Roubaix velodrome. Planckaert is obscured behind him. Bauer lurks, Van Hooydonck is ready to open up the sprint from last position.
Planckaert was pleased to see the red, yellow and blue jersey and he hoped Wampers would lead out the sprint, or 'spurt' as he calls it. "Wampers went to the front and Planckaert settled onto his wheel but the pace was not high enough. Jean-Marie was tired from the chase and it all slowed down," he says. "I lost a bit of concentration because when I was on his wheel I thought 'okay, now I'll win this easily, I have a team-mate to lead me' but the pace was not high enough and the others were all moving around me. It was a very strange finish, everything was a bit disturbed and my brain could not compute it. In fact, it would have been better if Jean-Marie had stayed in the back and I had done a normal 'spurt'."
With his track craft, Bauer was hoping to equalise the difference in pure speed between he and Planckaert, but it was Van Hooydonck who went for the long one, a death or glory bid down the back straight, turning over his weary legs and bobbing his head and shoulders, almost lifting the front wheel off the track with the sheer depth of effort he went to.
As Van Hooydonck rounded the final bend, roughly in the middle of the track, Bauer dived down to take the preferred inside line, leaving Planckaert with no option but to go the long way, over the top of his lanky compatriot.
"With one kilometre to go, I was 100 per cent sure I'd win by 10 metres," says Planckaert. "With 100 metres to go, I was behind and I wasn't sure anymore. I did the last 20 metres with my eyes closed."
"I don't think Planckaert or I got a good bike throw," says Bauer. "I had my eyes closed and I was really surprised by the flashes of the cameras, but immediately I was like 'shit, I didn't throw my bike'. He didn't scoop me, for sure."
None of the riders immediately behind had a clue who had won. "I remember a Belgian national junior championship road race [in 1986] once where Wilfried Nelissen and Serge Baguet were so close the organisers made them ride the last one kilometre again, man against man," says Van Hooydonck. "Of course there was a photo, but I wondered if they would make Eddy and Bauer do another lap of the track if they couldn't tell." Nelissen won that re-run final kilometre showdown for the junior title, but fortunately there was no need for that here.
Planckaert and Bauer hit the line together. No one knew who had won...
**
Planckaert and Bauer shook hands and went and sat with their team helpers. "Someone said to me 'Oh you definitely got it,'" says Planckaert. "But I thought 'Don't be crazy'. I know I had my eyes closed but if I didn't know for sure, and Bauer didn't know.... They were just saying it to make me feel good, I know."
Wampers says: "Everyone in the Panasonic team thought it was Planckaert, but then I looked over to where Bauer was, and everyone in 7-Eleven was saying he'd won, so I thought 'oh shit'."
Then came the moment that brought Planckaert relief and then joy. "I saw the picture but it was so close. You can see I won, but it's a centimetre, maybe even less. I was happy, of course, but even in that moment I felt pity for him [Bauer] to lose a race of 266 kilometres by that. It's something that will follow you all your life."
Bauer, though, took defeat with philosophical grace. "I did pretty much everything right that day, so I wasn't going to beat myself up. I was keeping my fingers crossed it was me but I'd done what I could do." He didn't see the picture that day but it didn't cross his mind to question the verdict. "I trusted the photo finish camera and the jury," he says. "I didn't check it out in the velodrome, maybe it would have been good to check it out. I saw it a few days later.
"It is pretty tough to be second but it was an amazing race. My attitude to sport overall was that there are going to be wins and losses, or second places or whatever. The only way you can overcome these defeats is to say 'okay, let's look ahead'. There's no point wasting energy thinking about something you can't change."
An exhausted Bauer after the race
**
Finally the Planckaert name was among the list of Paris-Roubaix winners and Eddy and Walter shed a tear of joy. "I feel it was my day to be like Eddy Merckx," he says. "I rode 100 kilometres in the front and I won by a centimetre. The Tour of Flanders was a beautiful victory but Paris-Roubaix is the best race to win. Even in America they talk about it. I dreamt about it as a small boy, I won it, and I still think about it now."
But whenever he sees the finish of that race a little shudder goes down his spine. "I think it would haunt me the rest of my life if I had lost by one centimetre. I have seen it many times on TV, hundreds and hundreds of times, probably, and every time I watch it as if it was the first time. I swear, I am frightened that this time I'll lose.
"And it's such a relief when I can go 'Yes, I win again'."
THE RESULT
1 Eddy Planckaert (Bel) Panasonic in 7-37-02
2 Steve Bauer (Can) 7-Eleven
3 Edwig Van Hooydonck (Bel) Buckler both same time
4 Martial Gayant (Fra) Toshiba at 3sec
5 Jean-Marie Wampers (Bel) Panasonic
6 Gilbert Duclos-Lassalle (Fra) Z both same time
7 Thomas Wegmüller (Swi) Weinmann at 7sec
8 Adri Van der Poel (Bel) Weinmann at 10sec
9 Rudy Dhaenens (Bel) PDM
10 John Talen (Ned) Panasonic both same time
FIRST PERSON
Cycle Sport's eyewitnesses for the 1990 Paris-Roubaix were...


Eddy Planckaert (Winner)
Classics specialist and sprinter, who also won the Tour de France green jersey in 1988. Now a reality TV star in his native Belgium
Steve Bauer (Second)
Popular Canadian all-rounder - fourth in the 1988 Tour de France after wearing the yellow jersey. Now manages the Canadian Spidertech cycling team, and runs a bike tours company.
Edwig Van Hooydonck (Third)
Tall, prodigious cobbled classics rider, who won the Tour of Flanders twice. Now working as a salesman for a windows and doors company.
Jean-Marie Wampers (Fifth)
Surprise winner of Paris-Roubaix in 1989, the Belgian was instrumental in defending Planckaert's lead in 1990. Now working as a salesman.
Thank you for reading 20 articles this month* Join now for unlimited access
Enjoy your first month for just £1 / $1 / €1
*Read 5 free articles per month without a subscription
Join now for unlimited access
Try first month for just £1 / $1 / €1