Cycling fans suggest new rules to make bike racing more exciting
We asked Cycling Weekly readers to suggest new rules - or ones that should be removed - to make professional cycling more exciting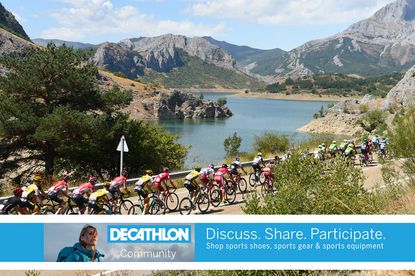 Naturally, professional bike racing is the best sport in the world. There's no argument against that. But, of course, there's always room for improvement.
We regularly hear and see comments from race fans questioning the presence of certain rules which seem to stifle the action. With a few tweaks here and there, and a pruning of the regulation book perhaps bike racing could move up another level.
We recently asked Cycling Weekly readers for their race rule ideas. Here are a selection of answers, brought to you in association with Decathlon (opens in new tab).
What bike race rule would you scrap – or introduce? Let us know in the comment section below.
General classification time stops with three kilometres to go on flat stages – let the sprinters play in peace.
Seamus Whelan
If a rider on a team has a serious crash in the first week of a Grand Tour, such as broken leg or similar. The team should be allowed to replace that rider with a fresh rider from the squad. Bit like a 'subs' bench.
Andy Miller
Scrap the rule that stops one team helping another team – look what happened with Richie Porte.
Leon Lewis
An all-drugs-allowed policy, with audience participation. Audience can vote in-race for certain riders to receive a chemical boost.
David Prescott
Put lead weights on Sagan's bike. It's unfair on the others to let him ride on a level playing field.
James Baggott
>>> The best cycling accessories that haven't been invented yet
Only the team leader would have a race radio. And the radio would only be for important things like route changes.
Stuart Gray
No radios. Either that or they all have to race on Raleigh Choppers, either would be great.
Patrick Smart
Sagan wins the green jersey (wait, is that actually a rule?).
Stephen Hughes
No spare wheels. If you puncture, you've got to change the tube yourself.
Pete Matthews
Anyone attacking the gruppetto should receive an instant three-year ban, worse than doping in my opinion.
Jacob Tipper
I think we should have far more laws - how about insisting all the Grand Tours rebrand themselves according to the most popular TUEs? We could have the Tour de Salbutamol, the Giro d'Asthma and the Vuelta Corticosteroid Injection.
Dave Rowe
>>> 22 things that only other cyclists will understand
Scrap the rules for having to finish with your bike. I would love to see the sprint for the line after a late crash.
Michael Edwards
Shorter, faster routes to keep the action going and maybe boost TV viewing in the process.
Lee Downton
Remove the bike weight limit, technological limit and power meters.
Alain Lim
All Tour de France competitors to use Boris Bikes.
Matt Shaw
Introduce: Anyone drafting a car is penalised one minute. Anyone holding onto a car or towing is disqualified. Shutting down a race by blocking the front of the peloton with a team spread right across the road is penalised.
Reggie Anderson
Allow the team leaders to carry handbags so they can twonk each other and score points in certain zones.
Ed Gallagher
No power meters. Too much data is killing the excitement. Riders know too much about how to perform, when and for how long. Needs to be more instinctive.
Stephen Burdis
Thank you for reading 5 articles this month* Join now for unlimited access
Enjoy your first month for just £1 / $1 / €1
*Read 5 free articles per month without a subscription
Join now for unlimited access
Try first month for just £1 / $1 / €1