Cycling gymnastics and football - the UCI show off some of their more unique sports (video)
This video from the UCI shows some of the more niche disciplines under the governing body's umbrella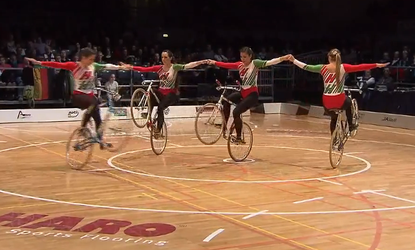 We've seen some strange things occurring on two wheels recently. From Peter Sagan's impressive skills, to a cat nearly meeting its fate at the Ghent Six-Day. There's even been a love song written and recorded for Alberto Contador.
Admittedly the video above is not a patch on the love song, but it's still somewhat bizarre - especially the fact these two events are backed by the UCI.
First up we see 'Artistic Cycling', described by cycling's governing body as a sport that is comparable to ice skating and artistic gymnastics. Now, even Sagan would be impressed with some of the wheelie skills on show here as the competitors present their five-minute (yes five whole minutes) programme set to music.
The UCI claim that the sport is most popular in Germany where there are 'no fewer than 10,000 licence holders'.
Then comes an event that looks like it could be fun, if only it didn't look so incredibly difficult – Cycle-Ball.
Cycle-Ball is like football, but on a bike, with competitors (exclusively male) passing and shooting using the front wheel of their bike.
The first World Cycle-Ball Championships were apparently held in 1930, and let's just hope the final was as exciting as this match between the powerhouses of Germany and Switzerland, which was settled by a penalty shootout.
Stunt rider Danny MacAskill's latest challenge involved a five-metre loop-the-loop on a barge in the Thames.
Keep your core strong this winter
A motorist in Aberdeen claims he is a policeman when a cyclist confronts him about his dangerous overtaking move.
Thank you for reading 20 articles this month* Join now for unlimited access
Enjoy your first month for just £1 / $1 / €1
*Read 5 free articles per month without a subscription
Join now for unlimited access
Try first month for just £1 / $1 / €1