Cycling UK slams 'self-serving' car hire survey and calls for government to address real issues
Cycling UK representative says car hire company survey was 'self serving' and adds that the government review into cycling safety fails to address the real issues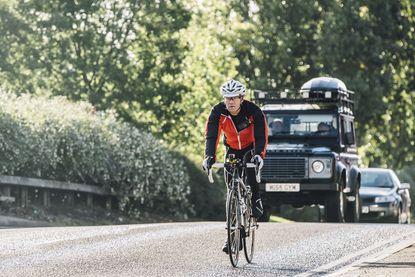 (Image credit: Daniel Gould)
Cycling UK has criticised a survey which suggested that the majority of bike riders are in support of making high vis clothing and helmets compulsory.
The study, carried out by CheapCar.co.uk collected answers from 1,344 customers who used the national car hire service and self-identified as cyclists.
The overwhelming majority – 87 per cent - said that making high vis compulsory for cyclists would make 'cycling safer in the UK', with 80 per cent also supporting compulsory helmets.
Sam Jones, campaigns and communications coordinator at Cycling UK, told Cycling Weekly: "[The survey] seems a bit self-serving. The question 'are you a cyclist?' is quite vague - are you a cyclist or a person who rides a bike? Are you someone who rides once a year? The National Transport Institute categorises a cyclist as someone who cycles two to three times a week.
"Look at the things they're saying are important – I didn't see infrastructure in there at all. I'm pretty sure if you spoke to anyone who was cycling regularly they would say infrastructure and measures to actually make people who are driving more aware.
"What's the danger on our roads? It's vehicles causing the major injuries to people on bikes."
When it comes to high vis clothing and its benefit to safety, he said evidence was inconclusive.
"The research with high vis shows there is nothing conclusive that says that it makes you stand out. It says drivers might notice you but not necessarily whether you're actually safer.
"Where there is evidence is in reflectors – particularly in areas of movement – such as at the pedals or shoes, or wrists… there's been studies to show that these do make cyclists more noticeable and can assist with safety."
When it comes to helmets, Cycling UK is opposed to any helmet laws, stating "these are almost certainly detrimental to public health."
The original question asked by CheapCar.co.uk was 'what can make cycling safer in the UK?'
Asked the same question, Jones said: "Infrastructure. The big one is having space for cycling – part of that would be having national design standards to make sure that what infrastructure we do have built is safe everywhere."
He also added that lower volumes and speed of traffic in urban areas would help, as well 'Close Pass' operations, like the one carried out my West Midlands police which has seen a 20 per cent reduction in the number of cyclists killed or seriously hurt in the region.
Watch: How to ride in the dark
The survey comes soon after news that a government review into cycling safety will consider whether cyclists should be made to wear hi-vis clothing and helmets.
The review was announced soon after Charlie Alliston was convicted of wanton and furious driving after crashing into and killing a pedestrian whilst cycling.
"Politically speaking, it's interesting that we see a review into cycling coming out two weeks after we see a verdict delivered… when we've been waiting since 2014 for the government to launch its full consultation into all road traffic offences and sentencing, which is something that will help keep all road users safe, is no where to be seen."
He added: "There's potential for the review to be positive. Ideally we would be looking at the greater dangers on the road, with a full review into all road traffic accidents and sentencing, and the Department for Transport would be concentrating on making sure the cycling and walking investment strategy works.
"It [the review] seems a slightly unnecessary distraction at the moment – but Cycling UK can only work with our partners to ensure sure we make the most of it."
Thank you for reading 20 articles this month* Join now for unlimited access
Enjoy your first month for just £1 / $1 / €1
*Read 5 free articles per month without a subscription
Join now for unlimited access
Try first month for just £1 / $1 / €1