Cyclists in favour of compulsory day time lights and helmets, study claims
A study carried out by a car hire company concludes that "the cycling community really needs to pull together to help keep everyone as visible as possible"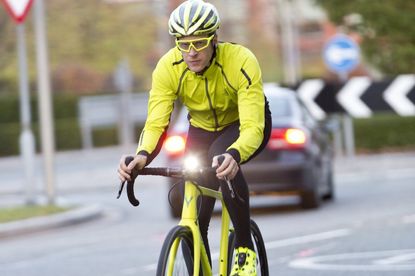 A survey carried out by a car hire company has revealed that 87 per cent of its own cycling customers believe bike lights should be compulsory at all times.
The survey results were sent to Cycling Weekly by CheapCar.co.uk (opens in new tab). It claimed that the same questionnaire also revealed that its cycling customers said helmets, mirrors and reflective jackets should also be compulsory.
The car hire firm based its findings on responses from 1,344 customers, who were screened only by self identifying themselves when answering positively to the question 'are you a cyclist?'
Of those using the National car hire service, and also claiming to be cyclists, 81 per cent said helmets should be compulsory. Mirrors were supported by 77 per cent and reflective jackets by 54 per cent.
Brake lights and indicators were also considered in this survey, but supported by just 15 per cent of respondents who answered the question 'what could make cycling safer in the UK?' in October 2017.
Listing some 'qualitative' responses given, the company provides quotes from some of those questioned - though surnames could not be revealed due to data protection restrictions.
Jules, a commuter cyclist from London, is reported to have said: "There are so many things going on that I feel I'm invisible. If all cyclists had lights then I'm certain it would make a big difference to cars pulling out and cars turning on you"
Andrew a cyclist from Bath told the company: "It makes me sad when I see cyclists dressed all in black for example - if I pull alongside them at lights I always make sure they know they can't be seen."
Spokesman Jonathan Ratcliffe for CheapCar.co.uk says: "We were very surprised to find cyclists were critical of each other, especially on those who dressed in dark colours whilst cycling. Their number one idea to help keep each other safe was enforced bike lights - and it seems it's simply a means to compete with other distractions on the road."
In a press release sent to Cycling Weekly, CheapCar.co.uk concluded: "The cycling community really needs to pull together to help keep everyone as visible as possible."
Though staying visible is of course important, we'd expect that most of the cycling community is more inclined to believe there are more productive measures available which could increase safety for cyclists.
A survey published by Halfords recently revealed that of their audience, four in five people back harsher penalties for aggressive drivers, though 86 per cent also thought cyclists who failed to abide by the Highway Code should also face harsher punishments.
Returning to the original question 'what could make cycling safer in the UK?', Cycling UK calculates that between 2011 and 2016 there were around 9.4 billion cycle trips made to every death, and that the general risk of injury 'of any severity' whilst cycling was just 0.05 per 1,000 hours of cycling.
*This article was edited at 5pm on 25.10.17 to add more context and information
Thank you for reading 5 articles this month* Join now for unlimited access
Enjoy your first month for just £1 / $1 / €1
*Read 5 free articles per month without a subscription
Join now for unlimited access
Try first month for just £1 / $1 / €1