CYCLING WORLD SET FOR CONTADOR'S ANNOUNCEMENT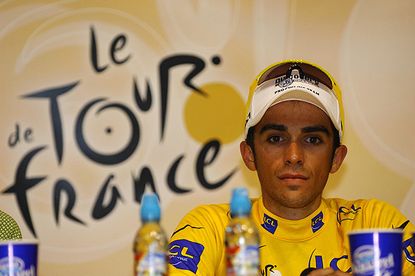 All eyes will be on Madrid today (Friday, Aug 10) when Tour de France winner Alberto Contador makes his statement at the surprise press conference that was announced earlier this week.
There has been no indication over what the announcement entails, but it comes as the 24-year-old Spaniard is being put under increasing pressure over his links to Operacion Puerto.
Soon after Contador won the Tour, German anti-doping crusader Werner Francke claimed to have documents detailing the Spaniard?s links to Puerto and Dr Fuentes. Ex Liberty Seguros rider Jörg Jaksche then came out and said that he had seen reference?s to A.C. on Puerto documents.
Contador was kicked out of the 2006 Tour due to the investigation, but had since been cleared by the Union Cycliste International (UCI) of any involvement. Contador was one of four riders linked to Puerto to then sign for the Discovery team for 2007 (the others being Ivan Basso, Allan Davis and Sergio Paulinho)
Francke has now sent the documents to the World Anti Doping Agency (WADA) who have since opened an investigation. The response of Discovery Channel Team Director Johan Bruyneel to these claims was to attempt to discredit Francke.
Although the publicity does not seem to be affecting Contador?s popularity in his native Spain, he is not so popular in Germany. Organisers of the Vattenfall Cyclassics ProTour race in Hamburg said earlier today that Contador cannot ride. He was not however in the Discovery team for the event.
Contador will be joined by Bruyneel at Spain?s Superior council offices where the press conference is to take place, although it is not believed to have anything to do with a sponsorship deal for next year.
The email announcement said there would be no opportunity for questions after the announcement, and Discovery, that is half owned by Lance Armstrong, is not believed to have yet found a new backer.
Cyclingweekly.co.uk learnt that the team had been in advanced discussions with American technology and software giant Oracle, but the firm has since backed out.
Whatever the announcement, it is not likely to put an end to the Contador ? Puerto saga, despite the rider having it in his power to do so. All he has to do is insist his DNA is compared to that of the blood still in storage in Madrid.
After all, he signed the UCI charter to say his DNA was at the disposal of Spanish law.
Thank you for reading 20 articles this month* Join now for unlimited access
Enjoy your first month for just £1 / $1 / €1
*Read 5 free articles per month without a subscription
Join now for unlimited access
Try first month for just £1 / $1 / €1