Cyclist uses plungers to create protected bike lane in Rhode Island
One cyclist took surprising measures to mark out the bike lane...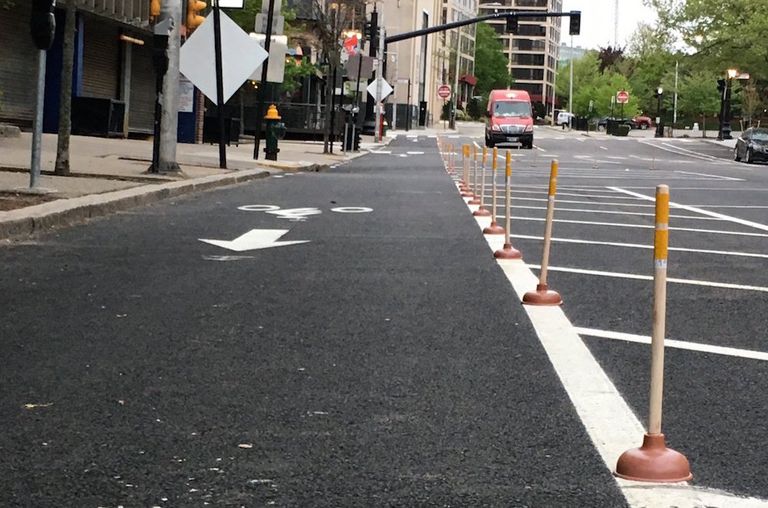 Just in time for last week's National Bike to Work Day, Jeff Leary installed some rather surprising bike lane protectors.
Located on Fountain Street in Providence, Rhode Island, Leary placed 72 toilet plungers along the white line indicating the outside of the street's bike lane. Leary even went so far to put reflective yellow tape on the handle for increased visibility.
>>> Watch: Cyclist knocked off bike then nearly run over in shocking dooring incident (video)
"The city could've gone one step further by putting in flex posts and it would've been a signal to drivers that, 'You really don't belong over here,' and park in the middle," Leary, a long-time bike commuter said to NBC 10 News (opens in new tab) about the creation of the new bike lane.
Although the city is working to make the city more accessible to cycling commuters, he believes more safety measure should be put in place to protect cyclists on the city's roads.
"I would like to see the transportation department and the highway department be a little more proactive when these sort of things are implemented – to really go all the way with it," he said.
Fountain Street was recently re-designed to include the dedicated bike lane, something that drivers in Providence aren't accustomed to.
Adjacent to the the new bike lane are parking spaces whose parking meters are actually located on the other side of the bike lane. In order for a driver to feed the meter, they must cross over the bike lane, which can create a dangerous and confusing situation.
"The parking meters are right next to the bike lane, so I think that's just what makes people (confused)," Providence resident Chris Anderson said.
According to a spokesperson from Mayor Jorge Elorza's office, more improvements are expected to the bike lane this summer and the plungers will not be removed by the city immediately.
"We think it's a creative solution to an existing problem," the spokesperson told NBC 10 News.
Thank you for reading 5 articles this month* Join now for unlimited access
Enjoy your first month for just £1 / $1 / €1
*Read 5 free articles per month without a subscription
Join now for unlimited access
Try first month for just £1 / $1 / €1