Cyclopark presents Burns, Bikes and Breakaways event to fund youth development programmes
Fundraiser will feature panel discussion on the spring Classics, auction and raises money for development programmes - tickets on sale now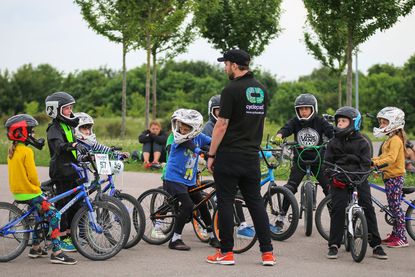 Cyclopark – Kent's world class facility featuring a road race circuit, mountain bike trails and a skate park – is hosting a 'Burns, Bikes and Breakaways' event to raise money which will go towards getting more people riding bikes.
The event, taking place on Saturday February 3, will consist of a panel discussion focused around the upcoming spring Classics, an auction, and Wattbike racing.
The panel line up features Sky Sports presenter Orla Chennaoui, former pro rider Sean Yates, Storey Racing's EJay Harris, presenter Rebecca Charlton and wheelchair racer John Smith.
Auction prizes include ASSOS clothing fitting and a full outfit, a bike fit worth £400 at bespoke clinic Velo Atelier, a luxury cycling holiday, and training sessions with coaches of elite riders.
Wattbike races - carefully integrated with the three course meal on offer - will run throughout the evening, with guests competing one-on-one before reaching a grand final.
The event will take place inside the park's new 'Park Eat' facility - at the charity funded facility which has held both National BMX Series events and a round of the National Cyclocross Series in the past six months.
Money raised through ticket sales and the auction will go to the Cyclopark Charity Trust, who will use it to continue their work supporting youth development programmes.
The development programme has expanded significantly in recent years with introduction of a new Cyclopathway that is aimed at all ages and abilities as well as the park's new adult race team 4T+ Cyclopark.
CEO at Cyclopark Alex Flint told Cycling Weekly: "The Cyclopathway offers a defined and structured coaching framework for all abilities. We have the longer term strategic objective of positioning Cyclopark as the National Cycling centre of the south and offering the best accredited Cycle coaching journey in the UK.
"We see this as a balanced and holistic approach with equal focus from learn to ride, all the way through to elite and producing the Olympic champions of the future."
Head of the board of trustees, Norman Blissett told us: "Many people know Cyclopark as a great racing venue but we're also a charity working with the local community. One of our big aims is to get local kids fitter and healthier by riding their bikes.
"Our new development pathways give increased opportunities but we want to do more. This event will raise funds to help us get further out into the community and introduce the fun, excitement and health benefits of riding bikes to more of our local young people."
Tickets cost £50, and include a three course meal. Doors at the Gravesend, Kent facility will open at 6.30pm on Saturday February 3 and are available via TicketSource or at the park reception.
Thank you for reading 20 articles this month* Join now for unlimited access
Enjoy your first month for just £1 / $1 / €1
*Read 5 free articles per month without a subscription
Join now for unlimited access
Try first month for just £1 / $1 / €1