Dave Brailsford 'has a beer' with spectators at Monsal Hill Climb
Team Sky boss Sir David Brailsford joined in with spectators at the 2017 Monsal Hill Climb on Sunday - Photo by Rob Copeland/Twitter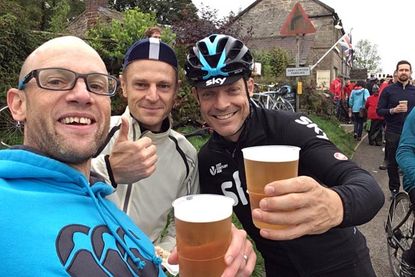 (Image credit: Rob Copeland/Twitter)
Sir Dave Brailsford took a break from his duties in charge of Team Sky to watch the Monsal Hill Climb in the Derbyshire Peak District on Sunday.
The long-running hill-climb is widely regarded as one of the best in the country, and attracts a large number of spectators every year.
Brailsford used to live in Sheffield, only a short distance from Monsal Head, and rode to the event in full Team Sky kit.
>>> Riders' heart rate and power data from the Monsal HC show how deep you have to go in a hill climb
He then mixed with fans and even posed for a photo taken by Rob Copeland with pint in hand. It was a far cry from the pressured environment of watching his team during the biggest races on the calendar.
"The secret's out," said Copeland on Twitter. "Chris Froome's recovery drink from the horse's mouth. Amazing to see Sir Dave."
Brailsford also stopped to talk to YouTuber Cameron Jeffers of CyclingCam, who posted his mini-interview with Brailsford online.
https://www.youtube.com/watch?time_continue=2&v=euSz5g1Zlhs
Jeffers asked Brailsford whether he was tempted to take part himself.
"I'd love to really, but I think I'll have the same excuse as one I heard a minute ago, which was 'I couldn't race because the dog was sick". That's when you know you're at a local club event, it's nice to hear!"
With no Team Sky riders taking part in the Monsal Hill Climb this year, perhaps Brailsford was indulging in a bit of talent spotting for the future.
Adam Kenway (Raleigh-GAC) took the men's honours, with Rebecca Goodson (Velo Schils Interbike) securing the women's title.
Thank you for reading 5 articles this month* Join now for unlimited access
Enjoy your first month for just £1 / $1 / €1
*Read 5 free articles per month without a subscription
Join now for unlimited access
Try first month for just £1 / $1 / €1