Dean Downing blasts to victory in Exeter crit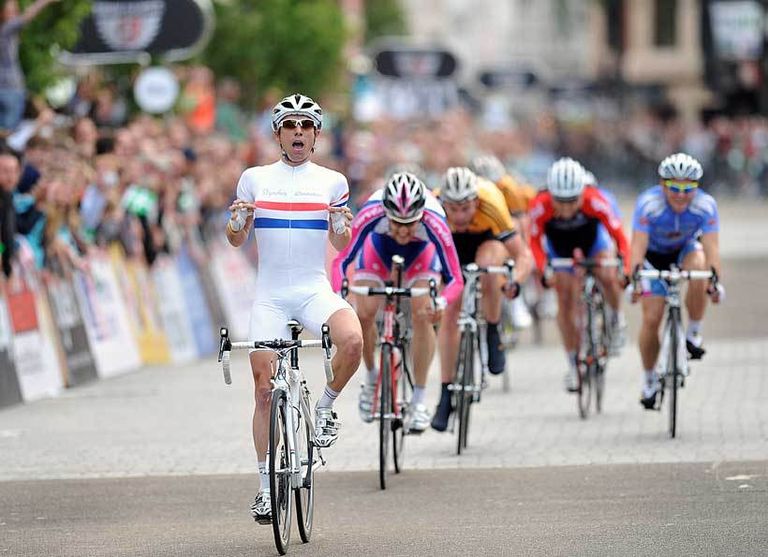 Dean Downing (Rapha-Condor) won Round two of the Tour Series team criterium event in Exeter on Thursday evening, crossing the line ahead of Dutchman Jeroen Janssen (Plowman Craven) and Rob Hayles (Halfords-Bikehut).
Big crowds lined the streets in a tight city centre track. "It was an awesome," Downing told Cycling Weekly. "The circuit was absolutely brilliant". The victory was reward for an aggressive showing from a Rapha Condor team bolstered by the inclusion of Kristian House and Tom Southam.
Along with Downing, teammates House and Southam were all placed in the top 10, handing them the all important team prize in Exeter.
The blue jerseys worn by the team in overall lead of the series were retained by Russell Downing's Candi TV squad, although they are now tied on points with Rapha-Condor. They have Downing and, in particular, Graham Briggs to thank for that, who worked hard to close down a 10 man breakaway in the closing laps of the city centre course.
Halfords's Ed Clancy strolled to the sprint prize, winning two of the three intermediate sprints, although the Olympic gold medallist still confesses he's struggling to get to grips with the complex points system.
"I'm still trying to get my head round it, to be honest," he said. His team who lost out badly in round one last week after Rob Hayles relegation, have now moved up to fourth place in the standings.
Next week the series takes in Woking, on Tuesday night, and Peterborough on Thursday. Highlights can be seen on ITV4.
Individual results: Round 2, Exeter
1. Dean Downing (Rapha–Condor)
2. Jeroen Janssen (Plowman Craven–Madison)
3. Rob Hayles (Team Halfords Bikehut)
4. Graham Briggs (Candi TV–Marshalls Pasta)
5. Yanto Barker (Sigma Sport Cycling Team)
6. Andy Tennant (Team Halfords Bikehut)
7. Tom Southam (Rapha–Condor)
8. Simon Holt (Candi TV–Marshalls Pasta)
9. Matthew Higgins (Team Corley Cycles)
10. Kristian House (Rapha–Condor)
Team results: Round 2, Exeter
1. Rapha–Condor
2. Team Halfords Bikehut
3. Candi TV–Marshalls Pasta
4. Plowman Craven–Madison
5. Sports Beans–Wilier
6. Sigma Sport Cycling Team
7. Team Corley Cycles
8. BMC UK Racing Team
9. www.cyclingbargains.com
10. Endura Racing
Team standings after Round 2
1. Candi TV–Marshalls Pasta
2. Rapha–Condor
3. Plowman Craven–Madison
4. Team Halfords Bikehut
5. Sports Beans-Wilier
6. BMC UK Racing Team
7. Sigma Sport Cycling Team
8. Team Corley Cycles
9. www.cyclingbargains.com
10. Endura Racing
Dean Downing accepts the kisses from the podium girls after winning round two
Downing reminds everyone why he's national crit champ
Russell Downing's Candi TV Marshalls Pasta team top the team standings
RELATED LINKS
Briggs wins first round of Tour Series
Tour Series opening night in Milton Keynes
Tour Series heads to Exeter
British race calendar 2009