Movistar reveal new fan-designed race jersey
The team jersey designed by a fan will be worn at the first UCI race after Covid-19 restriction are lifted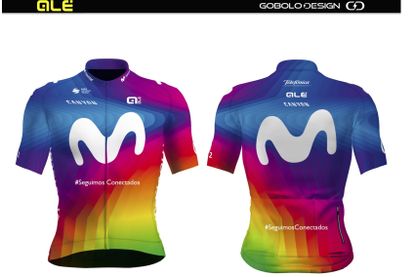 (Image credit: Alé)
Movistar Team and Alė have announced the winning jersey design for the 'Design the champions' jersey' project.
The initiative, which took place on the social media channels of Alé and the Spanish professional cycling team with the hashtag #SeguimosConectados (which roughly translates from Spanish as 'we are still connected'), ended on April 26.
The winning jersey was designed by Loris Gobbi, @GoboloDesign, an Italian cyclist and fashion designer. The rainbow jersey design won with a majority of 587 votes from the 3,069 total received.
The jersey will now be will be worn by Movistar in the first UCI WorldTour race post-coronavirus pandemic quarantine, before being signed by the team and auctioned, with all proceeds going to the Red Cross and Italian Civil Defense, which has been dealing with the Italian response to COVID-19, relying heavily on volunteer support.
Information on how to bid at the auction will follow soon.
Clothing brand Alé and Movistar had launched the 'design the champions' jersey (opens in new tab)' project with the aim of engaging cycling fans while the current UCI WorldTour is on hold amid the global conorovirus crisis, as well as raising money.
With many European countries hit by extreme lockdowns and quarantines preventing people from even leaving their homes, the competition was launched to serve as a virtual release for cycling enthusiasts, keeping then involved in the sport they love.
>>> Movistar donates 100% glasses to doctors fighting pandemic
The stay home global contest was open to all fans and ran from April 13 to April 26 2020 and to join in, fans simply needed to visit the Alé website to download a copy of the jersey template to design, taking care not to cover or colour the logos.
The jersey template could be coloured using several different methods, from crayons to graphic programmes, with competitors encouraged to let their creativity run wild, to ensure the winner is bold, original and stands out in the peloton.
Votes took place in two different steps. The first phase, was at the discretion of Alé and Movistar Team designers, with a tranche of six jerseys being chosen to go through to a public vote. In the second phase, the six jerseys were published on the Instagram profiles of Alé Cycling and Movistar with the general public to voting for the eventual winner.
Thank you for reading 5 articles this month* Join now for unlimited access
Enjoy your first month for just £1 / $1 / €1
*Read 5 free articles per month without a subscription
Join now for unlimited access
Try first month for just £1 / $1 / €1