Amazing new inflatable velodrome opens for business at the end of January
Lexus Velodrome in Detroit uses a 166-metre track housed in an inflatable dome to provide new indoor facility for cycling and other sports. We speak to its designer, Dale Hughes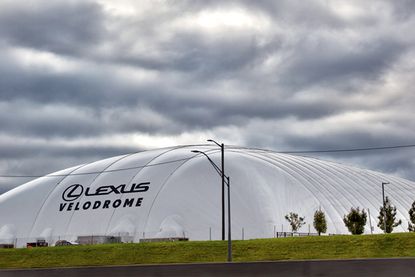 (Image credit: Lexus Velodrome)
A new indoor velodrome has opened in Detroit, Michigan, USA, using an ingenious inflatable dome to protect the track and its riders and provide an all-year-round facility.
The Lexus Velodrome will officially open for business at the end of January, having risen up in a relatively short space of time thanks to some hard work and ingenuity.
A 166-metre wooden track is accompanied by a flat concrete track around its outside for walking, running, skating and other sports and an in-field that could be used for a variety of purposes.
The velodrome was designed by Dale Hughes, who has been repsonsible for many of America's cycling tracks. Amazingly, perhaps, with the Lexus Velodrome's arrival only three US cities now boast indoor velodromes.
Hughes told Cycling Weekly that he thinks Detroiters will embrace their new facility.
"Detroiters like bikes for fitness, fundraising and socialising. Now we have added one more component – entertainment in a cool new place with a sport that most of our audience has never seen but is likely to embrace."
>>> Velodrome guide: where to ride on the track in the UK
In order for the velodrome to survive, Hughes and the venue's organisation have several means to recoup its cost.
"The total facility cost approaches $4.5 million [£3.3m]," Hughes said. "We expect revenue from sponsorship fees, user fees, merchandise, rentals, beverage income and grants."
http://www.youtube.com/watch?v=PlYIzeT2f90
The involvement in luxury car brand Lexus has also helped in bringing the project to fruition.
"Lexus was looking to be a major sponsor of an event, sport and/or facility. We came at the right time and the right place and we provided all three."
Although inflatable air structures such as the dome in Detroit have been used in other sporting facilities, its use over a cycling track is relatively unique. The track's 166-metres length made it more manageable to cover than an Olympic-standard 250-metre track, which Hughes also says is perfect for the intended users.
"Air structures are not new but what is different is what is inside," explained Hughes. "Air structures can be large or small depending on their use. Many are used for soccer, which is about the size the a 250m velodrome. Our 166m size is more entertaining for spectators, better viewing for TV/internet, great size to develop riding skills and easier for young and old to ride than a 250m track."
The idea of an 'inflatable velodrome' could be an appealing one to cities that are struggling to find a permanent venue for a velodrome, or for when budget is limited. For example, the albeit larger Lee Valley Velodrome in London built for the 2012 Olympic Games cost in the region of £105million ($142m) – which make's Detroit's $4.5m seem very cheap.
Hughes says that they will not be building any more, instead focussing on what they have in Detroit – but he hopes others may be inspired.
"We hope others will copy us - we expect they will," he said.
>>> Fire sweeps through Rio Olympic Velodrome causing damage to track
Although the facility will have its official opening over the weekend of January 26-27, over 200 riders have already given it a test run, aged between 10 and 85 years old. The opening weekend will see plenty of action on the track, with Madison, scratch and elimination races among the programme.
"We expect a lot of local users and we expect that track racers from around the country will want to come here and train, inside, all winter long," said Hughes.
One early adopter is former pro rider Franke Andreu, who said on Twitter: "Inside the dome is #lexusvelodrome It's been challenging to find my track legs again. 165m track 50 degree banking. #notcold"
Thank you for reading 20 articles this month* Join now for unlimited access
Enjoy your first month for just £1 / $1 / €1
*Read 5 free articles per month without a subscription
Join now for unlimited access
Try first month for just £1 / $1 / €1