Dimension Data trick Twitter users with fake white shorts photo
South African team fools social media users into thinking it will use white shorts in 2018 – causing alarm among some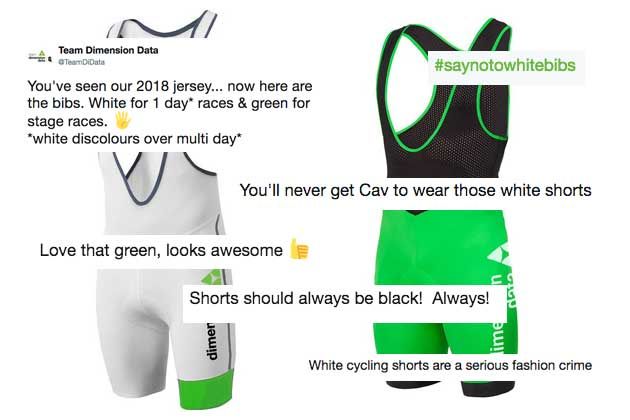 Team Dimension Data played a trick on social media users on Friday morning, posting a photograph of the squad's apparent 2018 choice of white shorts causing an immediate backlash from some users.
After watching some of the adverse messages come in, the team posted another message shortly after saying it was all a joke and that they would be using 'classic black' shorts for the 2018 season.
The original post suggested that the team would be controversially using white shorts for one-day races and green shorts for stage races, because "white discolours over multi day", which should have set alarm bells off for anyone thinking of the mud and dust of single-day classic Paris-Roubaix.
"So you'll be wearing white bibs if it's a wet Roubaix? Well, it's one way to get in all those 'worst kit decisions ever' listicles" said one reply.
"White cycling shorts are a serious fashion crime" said one user, with another adding "Both are horrible of course. Just wondering why some team managements can't get that bright colors for bibs are always a disaster".
Soon after, the team re-posted the image of the shorts with the words 'just joking' superimposed over the top, and confirmed that they would be using black shorts for 2018.
But, of course, there were some that were disappointed. "joke on you - i loved green bibs :(" said one user with another adding "You had me lol! I actually like the green ones".
>>> Mark Cavendish unveils 2018 Dimension Data team kit
The South African WorldTour squad had previously posted slightly more serious photos of British sprinter Mark Cavendish wearing the team's 2018 jersey, which has been redesigned for next season.