Doctors feared paralysis after Victoria Williamson's Rotterdam crash
Victoria Williamson says doctors thought she would be left paralysed after her crash at the Rotterdam Six Day but now she is out of hospital and continuing her recovery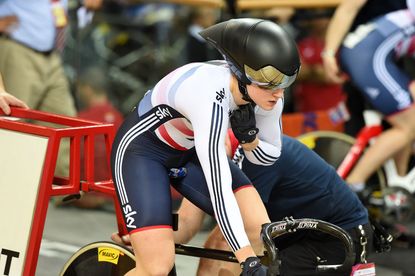 Track cyclist Victoria Williamson counts herself lucky not to be paralysed after doctors feared that could be the outcome of her crash at the Rotterdam Six Day.
The sprinter fractured her neck and back, suffered a dislocated pelvis and slipped a disc in her neck in the crash, which resulted in the racing being cancelled for the day at the event.
After four weeks in hospital, Williamson is now well on the way to recovery, revealing on Twitter that her spine and pelvis were aligned and that she could start baring weight on her legs.
"They were pretty sure paralysis was going to be the outcome while I was in Rotterdam, but luckily I pulled through," she told the BBC.
"Being an athlete, I think they said because my neck and back were so strong I was able to withstand the force.
"Although I did break a few bones, my spinal cord stayed intact and I'm here to live another day."
With the Olympics now out of the question, Williamson says she has no timeframes for getting back on her bike.
At just 22 years old, she has at least one Olympic cycle left in her and is confident of returning the level she was at before the crash.
"I'm going to get back on a bike eventually," she added. "I've got no timescale yet, but I don't know what level I'll be able to get to. I'll give it a good go.
"I've got the full support team behind me, I've got physios, doctors. We've got the world's best. At the end of the day, we're a great programme, so I've got every chance of getting back to where I was."
Thank you for reading 20 articles this month* Join now for unlimited access
Enjoy your first month for just £1 / $1 / €1
*Read 5 free articles per month without a subscription
Join now for unlimited access
Try first month for just £1 / $1 / €1