'We don't want to make a different bike for a sprinter and a climber...We just want to create the very best'
We took a tour of the Pinarello factory, and asked its CEO how much sponsoring one of cycling's richest teams means to the brand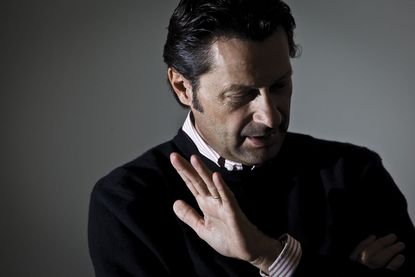 Fausto Pinarello is rolling around his factory on a segway when we arrive. At 4.45 pm on a Friday afternoon, the work desks are closed and the place is empty - employees have headed off early to commence the weekend.
It's the same factory where he began painting frames aged 17, under his father Giovanni Pinarello.
Now, as the CEO, he can have as many bikes as he pleases – but he doesn't.
"I have just one bike at a time. When I make a new one, it's time to sell the old one. Around every 2,000km. My favourite at the moment is flouro yellow," Fausto tells us.
With the Tour de France just weeks away - yellow is perhaps the colour on everyone's lips.
It's June 16 - and he triumphantly tells us the last Tour de France ready frames have just been shipped for Team Sky. And if Chris Froome is to roll into Paris on Sunday July 23 the victor - will there be a special edition of the teams Dogma F10 bike ready prepared?
"We paint that on Saturday night. Our workers are happy to do it - they come in and work over night. Otherwise, it's 'sacramento' – it's bad luck. We don't want to paint before."
>>> 'If it doesn't work out, we hide them': How pro mechanics prepare coloured bikes for race leaders
"It's easy to get it there in time, we can make one or two frames in a couple hours."
The relationship with Team Sky is a very special one, that commenced back in their debut year in 2010. And it's hardly Pinarello's first dealing with the maillot jaune.
>>> Chris Froome and Peter Sagan's special bikes for 2016 Tour de France final stage
Remove the Armstrong years, and the brand can claim 12 of the last 19 editions with Miguel Indurain, Bjarne Riis, Jan Ullrich, Óscar Pereiro, Bradley Wiggins and Froome.
"For us to have Team Sky - you cannot quantify how important it is. Team Sky is the best team in the world, " says Pinarello.
Being such a high profile team, it's understandable that we hear rumours of other manufacturers attempting to poach them.
"Team Sky want to stay with us because of the product. They are a very rich team. Money is important, but it's more important to them to have the best bikes. They decide to stay with us for the product."
Catering for winners can't always be easy, though – or perhaps it can – with only minor tweaks made, we're told.
"Chris Froome doesn't have very specific demands about his bike," Pinarello adds, "weight is important – and [the team asked for] a different rake of the fork - but they don't ask for a lot. Not so many adjustments."
"A lot of feedback comes from them - I think it's one of the main reasons we want to stay with Team Sky. The feedback allows us to create the best product for Pinarello."
The 'best' is where the goal post sits for Pinarello. The factory in the brand's home town of Treviso, Italy, is fairly compact.
"We want to create the very best. We still paint our most expensive frames here. But we produce materials all over the world - I don't care where it's coming from, as long as it's the best."
That means specialising: "Some brands, perhaps with larger [product development] teams and bigger budgets, create a bike for every occasion.
"We don't want to make a bike for a sprinter, a bike for the climber. You don't have to have a bike for every ride - it's all marketing. We find the best combination."
Thank you for reading 20 articles this month* Join now for unlimited access
Enjoy your first month for just £1 / $1 / €1
*Read 5 free articles per month without a subscription
Join now for unlimited access
Try first month for just £1 / $1 / €1