'If it doesn't work out, we hide them': How pro mechanics prepare coloured bikes for race leaders
We ask around the WorldTour teams how much kit they carry with in case they take a coveted race jersey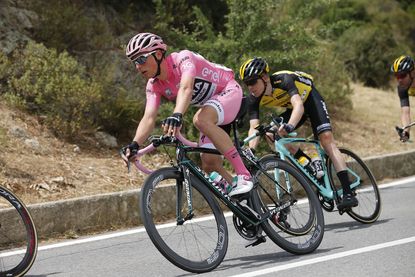 (Image credit: Yuzuru SUNADA)
Teams bring pink kit to this month's Giro d'Italia, and yellow to the Tour de France, to be ready for their riders and the sponsorship opportunities, saying it does not give their leaders bad luck.
>>> May's best tech: British wheels, a Quarq power meter and pocket-sized tool sets
When the mechanics trucks rolled into Alghero for the start of the 100th Giro d'Italia last week, inside they had pink shorts, gloves, bar tape, stickers and helmets for the eventual case their rider would take the lead.
"It's not that if we bring materials that they are going to have bad luck," Quick-Step press officer, Alessandro Tegner told Cycling Weekly. "It shows that we are prepared and trusting in their abilities."
"It doesn't matter, they [the riders] know about it, of course," Bora-Hansgrohe mechanic Gerd Kodanik added. "They are not nervous because of it. It's marketing."
Kodanik explained that he worked extra hours ahead of stage two after Bora's Austrian Lukas Pöstlberger unexpectedly took the win and lead on day one in Olbia.
"It doesn't matter, it's worth it. It's show-business," he said.
"We had everything ready to roll in pink. Unfortunately not the bike, but we had handlebar taps, bottle cages, shorts, socks, jerseys, even the clamps to close the shoes.
"It's all prepared, it's a Grand Tour so all the sponsors want that advertisement. It's all prepared by the sponsors beforehand."
André Greipel (Lotto-Soudal) won the second stage and for the first time in his career, took the pink jersey.
"He knows we bring the materials," said Lotto-Soudal mechanic, Nick Mondelaers. "Same for the Tour, where we bring yellow frames, green frames for the sprint jersey, but we are never sure we are going to use them.
Watch: Giro d'Italia 2017 preview, stages 10-15
"If it doesn't work out? We hide them. We just carry them in the truck the whole race."
"I don't know what happens to them, unfortunately," Kodanik added. "It's probably trashed or it returns to the sponsors, I don't know."
Team Sky and other teams will have material in their trucks yet unused, or perhaps that will never see the light of day in this Giro d'Italia.
They must be prepared because for sponsors like Specialized, bike supplier for both Bora and Quick-Step, it equals a huge advertising opportunity.
"We look at the roster for the race, and we know more or less who can take the leader's jersey: Kittel, Gaviria or Jungles. Then we call up our suppliers, to give us all of the kit for Jungles, two or three different changes, also for Gaviria, and some standard sizes in case someone else takes the lead," Tegner explained.
"Specialized provides helmets in S, M, L, it's easy, we have sticker lettering that we put on the bike. We have pink, ciclamino, white, in Bob's case, we have all we need for the white jersey and for Gaviria, we have it all for ciclamino.
"We have the standard frames, but we put on the stickers, put on cages, bar tape.
"We don't tell the riders, but they know that we do it. Sometimes in the past, we brought also painted frames, but we now just bring stickers, somewhat to not bring on bad luck and somewhat because they don't like changing bikes."
"Also, we have small little surprises for the riders. Not just shorts, but some personalised things with their names. For example, we are organised with Beoplay speakers.
"They made a couple of pink ones for us, with writing '2017 Giro d'Italia'. We had two, and we gave them to Bob and Fernando."
Thank you for reading 20 articles this month* Join now for unlimited access
Enjoy your first month for just £1 / $1 / €1
*Read 5 free articles per month without a subscription
Join now for unlimited access
Try first month for just £1 / $1 / €1