Dope testers give Armstrong a haircut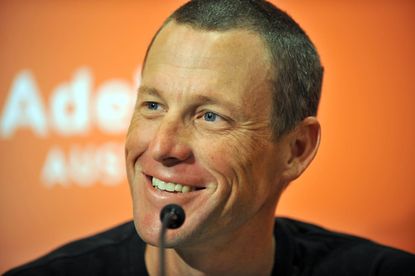 Lance Armstrong has been given a free haircut by the French anti-doping agency (AFLD) during an out-of-competition test.
The seven-times Tour de France champion was visited in Beaulieu-sur-Mer, France, on Tuesday for his 24th out-of-competition test since announcing his comeback from retirement last year. Inspectors requested the usual blood and urine samples, and also removed a sample of hair for analysis.
"Yet another 'surprise' anti-doping control," wrote Armstrong on his Twitter site. "This one from the French authorities. Urine, blood, and hair! Classic..."
"So I'm clear - never complaining about these tests. Def part of the job. Feel targeted? Of course. But anything to prove I'm clean. Onward."
According to a report by the AP news agency, several chunks of hair were removed - so much so, that the American Astana rider had to have a proper haircut to sort out the mess.
Although this is the first time Armstrong has had hair removed for testing, obtaining a hair sample is not unusual in the fight against doping. Hair contains residual traces of substances ingested by the body - and they are retained in hair until that portion is cut. Therefore hair can be used to test for longer-term use of banned substances. However, it's not a completely fool-proof method as bleaching hair can destroy the markers left in it by certain substances.
Armstrong reacted to press reports via Twitter about the hair sample, and that the AFLD had openly commented about it: "First off, I'm never surprised anymore. What does surprise me is that AFLD feels the need to publicly comment on confidential matters."
The Texan dropped his own out-of-competition dope testing programme scheduled to be run by US anti-doping expert Don Catlin in February after it failed to get off the ground, citing logistical problems.
Armstrong is currently in the south of France training and checking out various parts of the 2009 Tour de France route in advance of attempting to win the event for an eighth time this summer.
RELATED LINKS
Lance Armstrong: Rider Profile
Analysis: Astana snatch defeat from the jaws of victory
Armstrong and Catlin drop anti-doping programme
May 2009 issue of Cycle Sport out now!
2009 Tour de France: week-by-week guide
Thank you for reading 5 articles this month* Join now for unlimited access
Enjoy your first month for just £1 / $1 / €1
*Read 5 free articles per month without a subscription
Join now for unlimited access
Try first month for just £1 / $1 / €1