Downing to ride San Sebastian after Wallonie win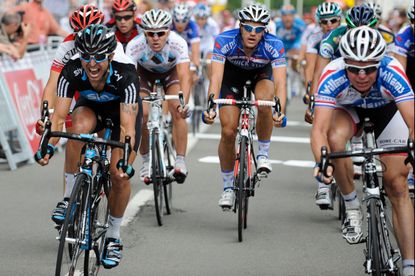 Russell Downing should have been flying home yesterday evening for a well deserved rest after winning the Tour de Wallonie stage race, but instead the Team Sky rider was heading to Spain, not South Yorkshire.
"I was down for a short rest following this, but they told me I was in the team for Clasica San Sebastian, so I'm on my way there now," Downing told Cycling Weekly.
He was still buzzing from pulling off a classy win in the difficult Belgian race around the hilly region of Wallonia, where the Ardennes Classics are fought out each year.
"It nearly went to plan," Downing said. "I went for early bonuses, but only managed to get third in a really hard uphill sprint, so that got me one second back and took me to eight seconds down."
Marking was close, making going for bonus interim sprints tough, so the team decided to put all their eggs in going for the stage win, a difficult proposition when illness meant that there was only three of them left in the race.
"It worked though, (Mathew) Hayman gave me a fantastic lead out and dropped me off at 250 metres to go. I started sprinting there and nobody came by. That got the stage and 10 seconds bonus, so that gave me the overall by just two seconds. It was enough though," Downing told us.
The Clasica San Sebastian will be a new experience for Downing, and he hopes selection might mean that Team Sky reconsiders and puts him in the Vuelta. "I'll do what I'm told of course, and give 100 per cent to whatever they decide, as I always do, but I really want to ride a Grand Tour.
"I honestly think I could win a stage, but of course I'd be there primarily to work for the team. That's the thing with me; I can win, but I'll ride 100 ks on the front or fetch bottles from the car, I'll do anything," Downing says.
Related links
Clasica San Sebastian 2010: The Big Preview
Downing wins Tour de Wallonie overall
Thank you for reading 20 articles this month* Join now for unlimited access
Enjoy your first month for just £1 / $1 / €1
*Read 5 free articles per month without a subscription
Join now for unlimited access
Try first month for just £1 / $1 / €1