Dr. Hutch: The thankless task of organising the Tour of Britain
With over 250,000 miles of Great British roads to choose from, and even more nitpicking fans to keep happy, the Tour of Britain's route man has the most thankless job in cycling, reckons the Doc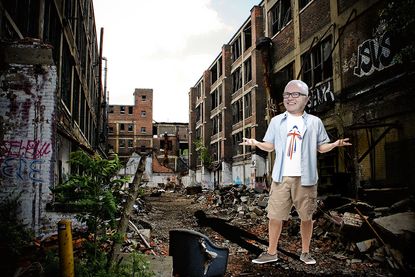 Do you want to know what the most thankless task in cycling is? I'll give you a clue. It's not that of the man who drove Lance Armstrong's stash round France for seven long, hot summers and in return didn't even get an invitation to ride in the VIP car at the 100th Tour celebrations last summer.
It's not even being the man who had the task last weekend of opening the car boot and removing Bradley Wiggins's blindfold and gag at the start line of the Tour of Flanders.
No. It's Mick Bennett's duties as director of the Tour of Britain, which include working out where it's going to go each year. This is a complex task, involving liaising with local authorities, sponsors, the police, and frankly God alone knows who else.
It requires the interests of these parties to be weighed against a course designed to provide good racing, yet keep the riders safe, and it has to be within various UCI rules governing things like the maximum distance between the finish of one stage and the start of the next.
Dissatisfaction guaranteed
That's not the thankless bit. The thankless bit is this. Feel free to chant along: "How can this be a 'Tour of Britain'? It doesn't visit [insert your own place name]." There were complaints from Yorkshire — for crying out loud — where the Tour de actual France is spending two days this summer meandering around in a circuitous, crowd-pleasing manner that it never even attempts when it's back on home soil.
Of course, now that the French are bringing their race to Yorkshire, they're going to establish a dangerous precedent. When the 2015 Tour de France route is announced, there will be cries of rage along the lines of, "How can this be a Tour de France? It's not even visiting Huddersfield!"
On the other hand, you'll have noticed the absence of cries from across the Channel of, "How can this be a Tour de France? It's in bloody Yorkshire!" It's not the French way. Corsica waited for over 100 years for the Tour to visit. The island has even borne with stoicism the fact that all anyone remembers from the race's eventual arrival is the Orica-GreenEdge bus stuck under the first stage finish gantry.
Tour de Corner
It's true that the 2014 Tour of Britain might be alternatively titled, 'A Tour of Britain's bottom left-hand corner'. But it's only a one-week race. Previous editions have had stages scattered all over the place, like the last few scraps of spaghetti left on an almost clean plate, with monumental commutes in the team cars from one day's finish to the next day's start. It was the thing the race was best known for among the riders. And while it would be nice to say that the stars' enthusiasm for aggressive racing survived the hours on the motorways, it wasn't always the case.
Given that's a problem for the riders, there is a little bit of irony about people who are so deeply unhappy at the thought of having to travel to see the race; its location changes from year to year anyway. Cycling is pretty much the only sport where anyone ever has the opportunity to go and stand at the end of their own driveway and wait for a major event to come to them. And when it gets there, it's free. We're incredibly lucky.
Look at it this way. There are only 250,000 miles of road in Great Britain. At the current rate, it's only going to take 184 years for the race to cover every yard of them. So sit tight. Everyone just needs to be patient.
Acts of Cycling Stupidity
This magazine had an article on cornering faster a few weeks ago. It reminded me of my own system for improving my cornering, when I was about 12. I simply rode round the same corner progressively faster until eventually I fell off.
It actually worked reasonably well, and while I wouldn't claim it was actively brilliant, I've seen stupider things. Take, for instance, my schoolfriend Ian, who, failing to recall my method exactly, attempted the same thing by starting off going much too fast, then went progressively slower until he stayed upright.
You don't half fall off a lot using the second approach. Rather unfairly, his mum blamed me for the whole messy debacle.
Great Cycling Inventions
1877: The bicycle bell
The bicycle bell is probably older than you think. The first ones were based on the foot-operated bells used on horse-drawn carriages, and the first patent was filed in 1877.
The inventor was John Dedicoat, who also invented the spring-loaded step to assist with mounting — which, if badly adjusted, would just as happily catapult him clear over the handlebars.
For many years, a bicycle bell was compulsory in the UK, even when racing. Many racers saved weight by drilling holes in the bell. This changed the 'ring-ring' into a dull 'thunk', and saved less weight than a haircut.
More cunning racers realised that bells were only checked for at the start, so could be thrown away after the first few hundred yards. One club of time triallists claimed to have a bell that had started over 100 races on nine different bikes, and finished none.
The bell law was repealed by the Thatcher government in 1983. It was re-imposed in 2004, but only for new bikes. The only thing that annoys pedestrians more than not ringing a bell ('sneaking up') is ringing a bell ('arrogantly demanding').
The only legit use is for conjuring up maids cycling to Communion and Bertie Wooster driving a Morgan.
Thank you for reading 5 articles this month* Join now for unlimited access
Enjoy your first month for just £1 / $1 / €1
*Read 5 free articles per month without a subscription
Join now for unlimited access
Try first month for just £1 / $1 / €1
Michael Hutchinson is a writer, journalist and former professional cyclist. As a rider he won multiple national titles in both Britain and Ireland and competed at the World Championships and the Commonwealth Games. He was a three-time Brompton folding-bike World Champion, and once hit 73 mph riding down a hill in Wales. His Dr Hutch columns appears in every issue of Cycling Weekly magazine
As a writer, he wrote the award winning The Hour about his attempt on the sport's most famous and sought-after record. He followed that up with Faster, about the training, the science the genetics and the luck behind the world's fastest riders, and Re:Cyclists, a history of cyclists from 1816 to the present day.
He's written for outlets ranging from Cycling Weekly to the New York Times, and has presented and and commentated for the BBC, Eurosport, Channel 4, and Sky Sports.
Before he did any of that he was a legal academic at Cambridge and Sussex universities. He now lives with far too many bicycles in London and Cambridgeshire.