Dr Hutch: The sensitive subject of saddle sores
Doctor Hutch considers an often overlooked ailment with a real sting in the tail - saddle sores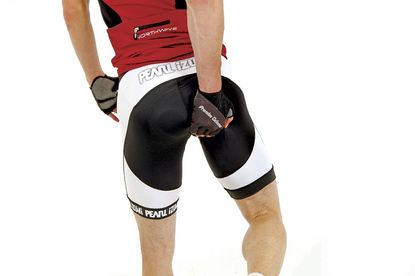 A saddle sore has this much in common with the spiny anteater: they both sound kind of amusing until you're sitting on one.
During the 2016 Giro d'Italia, Tom Dumoulin had his attempt on the race scuppered by a saddle sore. If you've never had one, you'll be baffled by this capitulation in the face of what seems like a trivial discomfort.
I, on the other hand, have had several saddle sores, and I find that even typing the words makes certain parts of my anatomy feel like they're attempting to clamber to safety.
Sore losers
He's not the first pro to have a Grand Tour ruined this way. Eddy Merckx was a non-starter in the 1976 Tour de France due to saddle sores. At least he wasn't at the race to see Joop Zoetemelk pull his shorts down to show some journalists exactly (and I mean exactly) why he was struggling in the race.
>>> Dr Hutch: Summer cycling is not all it's cracked up to be
A sore played its part in Laurent Fignon's famous loss of the 1989 Tour to Greg LeMond. (The reason it's so rarely mentioned is that Fignon's saddle sore was even more embarrassing than his un-aerodynamic ponytail, which usually gets the blame.)
A saddle sore even forced Sean Kelly to pull out of the 1987 Vuelta a España just two days from the finish, and while he was leading the race. If a saddle sore can defeat Sean Kelly, it's not to be brushed aside lightly.
There is perhaps no activity in the world less dignified than attempting to examine your own saddle sore. Mrs Doc tells me there are some special medical examinations for women that come close, but even she accepts that the saddle sore self-inspection is something special.
Watch: Dr Hutch's Guide to Waving
Self-inspection
Trying to get a clear sight of one, armed with a torch and a magnifying glass, is an experience that can cause severe embarrassment without anyone else in the room.
For a start, it's always going to be located on a part of your body that's got a bit too much in common with the underside of your kitchen cabinets, which is to say that whoever was responsible for the design and installation really didn't expect anyone to look at this area of his work too closely.
>>> Dr Hutch's guide to the noises your bike makes, and how to stop them
It is a shoddily-constructed region that would be an appalling enough prospect even if it were in perfect working order.
Things do not improve when you see the epicentre of your problem. Your first sight of a saddle sore is as disappointing as it is disgusting. It may make riding a bike feel as though the saddle has been replaced with the business end of a red-hot poker, but the chances are it looks like a pimple.
Like the kind of thing that you should just be able to squeeze into submission with no more than a momentary 'ouch'. Except that you know it contains the raw, shredded ends of every nerve in your body.
And there is, of course, next to nothing you can do about it. In the 1930s, riders used to attempt a cure by putting a steak down their shorts and riding on that, with the additional benefit that it tenderised the steak to perfection.
By the 1960s, the favoured remedy was cocaine ointment.
By the 1990s, a corticosteroid cream was used that conveniently provide a smokescreen for a dope-test failure.
None of these things really worked.
Still, if you've got a saddle sore, don't just sit there. Stand up. It's pretty much all you can do.
Thank you for reading 10 articles this month* Join now for unlimited access
Enjoy your first month for just £1 / $1 / €1
*Read 5 free articles per month without a subscription
Join now for unlimited access
Try first month for just £1 / $1 / €1
Michael Hutchinson is a writer, journalist and former professional cyclist. As a rider he won multiple national titles in both Britain and Ireland and competed at the World Championships and the Commonwealth Games. He was a three-time Brompton folding-bike World Champion, and once hit 73 mph riding down a hill in Wales. His Dr Hutch columns appears in every issue of Cycling Weekly magazine