Eight reasons why riding in a group is better than riding alone
You can get by with a little help from your friends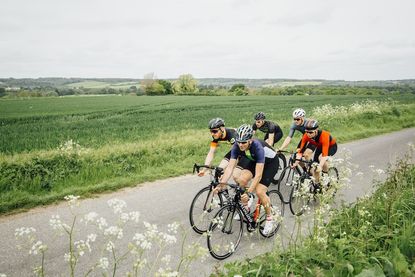 (Image credit: chris catchpole)
There's something beautiful about taking off on a long solo ride, nothing but you and the road. But then again, it can absolutely dull as ditchwater.
So what's better than rounding up a few mates and hitting the road as a group to get your motivation and miles up.
Here's eight reasons why riding in a group is much better than slogging it out solo.
>>> Eight reasons why riding alone is better than riding in a group
The draft
If you're after the mileage but not after a day of suffering into a headwind, then get in a group. There's nothing quite like rolling along in a bunch pedalling with a lot less effort than you normally do but yet going much faster.
If you're riding with a group of similar ability riders, than you can find the kilometres just tick by. Make sure you keep eating an drinking though, because you don't want to be the one bonking half way through because it felt all too easy.
The chat
After four hours out on the bike by yourself, you might find that you've not said a word for sometime. Except for maybe some expletives on that last climb.
>>> How to keep riding in your 80s
But in a group, you've probably got a whole load of other people to talk yourself silly about every intricate part of cycling that your family are fed-up of you rambling on about at home.
Not only that, but your guaranteed to pick up some free pointers from the more experienced riders...
Free advice
And who doesn't love a bit of free advice? Particularly if you're looking to get into some sort of racing, time trialling or long distance events for the first time, there's a good chance you'll be looking for a few pointers on how to firstly, survive it, and secondly, get better.
If you happen to be the experienced one though, it's still good news, because you can impart your hard earned wisdom onto your riding mates and look like a boss. Everyone's a winner.
Watch: How to use hand signals
You don't have to navigate (every time)
Got a designated leader for the ride? Excellent, just do your turns on the front, concentrate on the riding and be prepared to take absolutely no blame when you all get lost.
>>> Cycle computers: a complete buyer's guide
Probably best not to be too hard on your lost leader though, because when it's you're turn to navigate and you get lost, they'll probably remember...
You can test yourself
While you'll get yourself a free bit of draft for your trouble, there'll be occasions when you'll probably have to tackle a couple of climbs and that'll all go out the window.
Rather than look at this as a dreaded moment to get dropped by your stronger riding mates, it's also a chance to test yourself and measure your improvement.
You only get stronger by pushing yourself, and who knows, maybe you'll be the one leading up the climb in a few weeks.
You can pool your tools
Stuffed your pockets full of food and gels? Well don't worry about taking that mini-pump or chain tool, because you and your mates can share the load. Might still be a good idea to take enough inner tubes though.
>>> 15 most annoying habits shown by cyclists
You will actually go out
If you're lacking some motivation, having some friends to meet at a reasonable hour in the morning for a ride is the best way to make sure you actually get out and go. On those days when you'd rather just stay in bed than get out training, having some riding mates you absolutely can not stand-up or let down will at least get you out the door.
Plus you might miss out on...
Someone else paying for your coffee
Free cake, free coffee. You win.
Thank you for reading 20 articles this month* Join now for unlimited access
Enjoy your first month for just £1 / $1 / €1
*Read 5 free articles per month without a subscription
Join now for unlimited access
Try first month for just £1 / $1 / €1