The bluffers' guide to cycling jargon
Cycling has its own language. So it can be difficult to blag your way as an expert if you can't get your head around some of the key terminology. Here's just some (and by no means an exhaustive list) of the phrases you might need to if you're going to thrive in the cycling crowd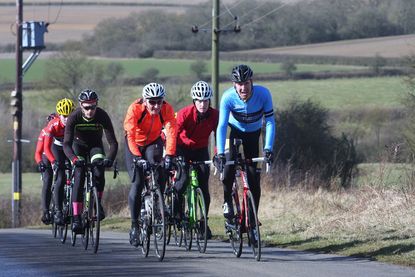 1. Leading out/getting dropped
One means you're probably doing quite well, the other means you're definitely not.
2. Through-and-off/Chaingang
No not a group of prisoners, but a slipstreaming formation of riders out for a hard ride. Can be quite confusing for the beginner, and requires a fair amount of practice so the other riders in your group can trust you not to surge at the front and or cause an accident.
3. Half-wheeling
The perennially annoying habit of having a riding companion stick half of their wheel in front of yours. This ends up pushing the pace up and up until you're all blowing, in which case, you might end up...
4. Bonking
Easily misinterpreted during your first experience among other cyclists, but get that out of your mind you dirty sod. You may be more familiar with the term 'hitting the wall', but either way this is something unpleasant and more likely to hit you early in your cycling life. If you want to get all scientific about it, it's all about depletion of glycogen stores or something. Get to grips with it here.
5. Chammy
"What is a chammy and why do I need to cream it?"
To a regular Joe, this is a perfectly legitimate question, but once you've been riding for a while or even a few days straight in fact, you'll start to realise why. The chamois is that padding inside your shorts FYI, and the cream helps to prevent chafing, saddle sores and possibly worse.
6. Cross
Like riding a road bike in the mud, but also you run over stuff as well. Some of us still don't quite get the attraction of this, but it's big in Belgium in the winter.
>>> Cyclocross bikes: a buyer's guide
7. Echelon
Caused by crosswinds and there's no point just riding in lines anymore. Big groups start to split and spread across the road as riders try to shelter at the side of one another. Generally a daunting experience for any newbie when you have no idea what's happening and your heart rate is at 190, no matter what it's called.
8. 53x11 (or any other gear ratio)
This will mean literally nothing to you when you start out, and it doesn't really matter. Eventually you'll know what's what, and then you can lord it over the next newbie.
9. Peloton
Frequently incorrectly written as peleton, this is just a fancy French term for a bunch of riders.
10. The Race of Truth/Contre-la-montre/Testers
These are words for a time trial and those sadistic enough in nature to punish themselves by riding one. Check your local bypass for more.
11. Clipless pedals
Actually, they're most definitely clip-ins, so don't ask questions.
Any more? Let us know what we've missed that you think should be included.
Thank you for reading 20 articles this month* Join now for unlimited access
Enjoy your first month for just £1 / $1 / €1
*Read 5 free articles per month without a subscription
Join now for unlimited access
Try first month for just £1 / $1 / €1