Epic days: Floods at the 1985 Tour of Flanders
With fewer than 25 riders making it to the finish, the 1985 Ronde van Vlaanderen was brutal even by Flandrian standards, writes Mick McMahon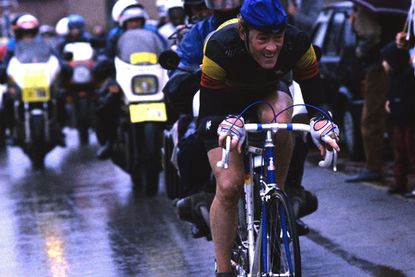 Early spring is a time when fair-weather cyclists emerge from their winter hibernation expecting dry roads, milder days and fewer saddle hours spent battling the elements.
It seems, however, that such seasonal changes do not always apply to the climate of northern Belgium.
In its 103-year history, the Tour of Flanders has been the stage for some of the most dramatically weather-affected races cycling has seen.
Despite originally falling at the end of May, the race has built such a reputation for rain, wind and freezing conditions that the term 'Flandrian' has come to define both extreme conditions and the hardmen who thrive in them.
Your guide to this year's Tour of Flanders
"It was as cold as Siberia all day and the rain fell in torrents," wrote race historian Rik Vanwalleghem of the 1985 edition, a day that tested even the toughest Belgian Classics specialists.
Tasked with riding in bitter temperatures for 271km, many riders fell victim to the weather early in the race. While the temperature had a significant impact on the riders, it was the constant rain coupled with the iconic cobbled 'bergs' that made conditions truly awful.
The sharp, hulking pavé of the iconic Koppenberg was the most treacherous. The 600m climb, which had been introduced to the race in 1976, became virtually impassable and many riders slung their bikes over their shoulders, took tugs from spectators and even resorted to removing their shoes to traverse the slippery stones on foot.
While many tentatively nursed their bikes over the Koppenberg, Nico Verhoeven, Phil Anderson and Eddy Planckaert used it as a launch pad, and established a 30-second lead over what remained of the peloton.
But as the sections of pavé deteriorated further, becoming elongated, muddy puddles hiding potholes and broken cobbles, Belgian Eric Vanderaerden bridged across before distancing his breakaway companions over the Muur and riding the remaining 20km solo to victory.
"It was a legendary Ronde," wrote Vanewalleghem, "one which wrote 'sport' with a capital 'S'. Of the 173 starters only 24 finished."
Thank you for reading 20 articles this month* Join now for unlimited access
Enjoy your first month for just £1 / $1 / €1
*Read 5 free articles per month without a subscription
Join now for unlimited access
Try first month for just £1 / $1 / €1