Etape du Tour riders to face the Tourmalet again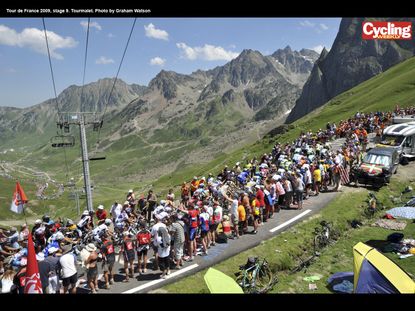 The Etape du Tour cyclo-sportive will visit the Pyrenees for the ninth time in the event's 18-year history.
The route of the Tour de France's 17th stage, from Pau to the summit of the Col du Tourmalet, will be tackled by thousands of Etape riders on July 18, 2010.
Etape regulars will know that the Pyrenees have been more commonly used by the Etape in recent years. This will be the Etape's sixth visit in ten years. Partly it is because of the availability of hotel rooms in Pau and Lourdes, which are able to cope with the influx of cyclists.
The Tourmalet has been on the Etape route five times before, but only once before, in 1997, has it been approached from Argelès-Gazost in the west.
Next year's 174-kilometre ride will start in Pau and head down to the Col de Marie-Blanque, which last featured on the Etape route in 2005. Then the riders will tackle the Col du Soulor before climbing the western side of the Tourmlet, which is the highest point of the 2010 Tour de France.
THE ETAPE IN THE PYRENEES

1993 Tarbes - Pau
Tourmalet (east), Soulor, Aubisque
1994 Lourdes - Luz-Ardiden
Peyresourde, Aspin, Tourmalet (east), Luz-Ardiden
1997 Pau - Loudenvielle
Soulor, Tourmalet (west), Aspin, Val-Louron
2001 Tarbes - Luz-Ardiden
Aspin, Tourmalet (east), Luz-Ardiden
2003 Pau - Bayonne
Soudet, Larrau, Bagargui, Burdincurutcheta
2005 Mourenx - Pau
Marie-Blanque, Aubisque, Soulor
2007 Foix - Loudenvielle
Port, Portet d'Aspet, Mente, Port de Balès, Peyresourde
2008 Pau - Hautacam
Tourmalet (east), Hautacam
2010 Pau - Col du Tourmalet
Marie-Blanque, Soulor, Tourmalet (west)
THE ETAPE ELSEWHERE
1995 Aime - Alpe d'Huez (Alps)



1996 Le Puy-en-Velay - Superbesse (Massif Central)



1998 Grenoble - Les Deux Alpes (Alps)



1999 Saint-Galmier - Saint-Flour (Massif Central)



2000 Carpentras - Mont Ventoux (Provence-Alps)



2002 Aime - Cluses (Alps)



2004 Limoges - Saint-Flour (Massif Central)



2006 Gap - Alpe d'Huez (Alps)



2009 Montelimar - Mont Ventoux (Provence-Alps)
Thank you for reading 20 articles this month* Join now for unlimited access
Enjoy your first month for just £1 / $1 / €1
*Read 5 free articles per month without a subscription
Join now for unlimited access
Try first month for just £1 / $1 / €1