Fabian Cancellara to attempt hour record in Mexico on August 3
Fabian Cancellara will try and break the hour world record in Aguascalientes, Mexico, after the 2014 Tour de France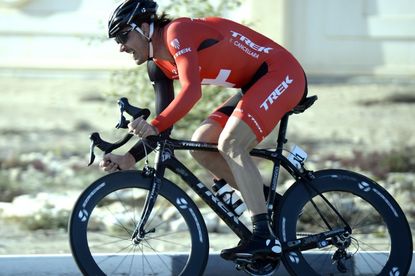 (Image credit: Watson)
Fabian Cancellara (Trek Factory Racing) finalised the date and venue for his hour record attempt. According to La Gazzetta dello Sport newspaper, he will try on the Sunday after the Tour de France, August 3, in Aguascalientes, Mexico.
The 32-year-old Swiss rider already holds the 2008 Olympic and four World time trial titles. He conquered the Tour of Flanders twice and Paris-Roubaix three times. Now he will try to beat the 49.700-kilometre mark set by Ondrej Sosenka in 2005.
Team general manager, Luca Guercilena already confirmed that Cancellara would attempt the hour record this year. He marked the periods after the classics, in late April, and after the Tour de France, early August as the possible times.
"It's not easy to find time when you are racing 12 months a year," Guercilena told Cycling Weekly. "It's hard to find time, two months, away from the road events and dedicated to the track. You need to try to insert in the season when he has a peak in form that he can transfer from the road to the track."
Cycling Weekly contacted Guercilena for this article but he was unavailable. On Wednesday afternoon, the team sent a press release saying that Cancellara will attempt the hour record this year but still needs to decide where and when.
Guercilena said: "We are in discussions with several tracks around the world, and in terms of timing, I can only confirm that we are no longer considering the period after the Classics."
La Gazzetta dello Sport reported today that Cancellara will train on the track after the classics, from April to June. He will start warming up starting July 22, which overlaps with the final week of the Tour de France. If he raced the Tour, where he won eight times (prologues and stages), he likely would leave early for Mexico.
The team evaluated the velodromes in Aguascalientes, Manchester and Anadia in Portugal. The second two sit near sea level but the first rests at 1800 metres.
The Aguascalientes Bicentenary Velodrome helped many cyclists break world records at the second round of the track World Cup in December. The British women's pursuit team clocked 4-16.552 minutes and Frenchman François Pervis posted 9.347 seconds in the flying 200-metre time trial.
Eddy Merckx broke the hour record at an outdoor velodrome in Mexico City in 1972. Francesco Moser, Graeme Obree, Chris Boardman, Miguel Indurain and Tony Rominger extended the distance in the 1980s and 1990s, but the UCI pushed aside those marks.
In 2000, cycling's governing body introduced stricter rules and rolled the record back to Merckx's 49.431-kilometre mark. Since then, only Boardman – 49.441 kilometres in 2000 at the Manchester velodrome – and Sosenka – in Moscow – topped the mark.
Fabian Cancellara will attempt hour record in April or July 2014, says team manager
Thank you for reading 20 articles this month* Join now for unlimited access
Enjoy your first month for just £1 / $1 / €1
*Read 5 free articles per month without a subscription
Join now for unlimited access
Try first month for just £1 / $1 / €1