Fabian Cancellara schedules hour record attempt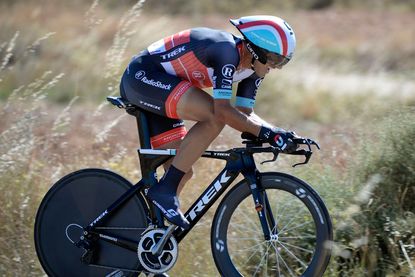 Fabian Cancellara will attempt to beat the hour record, 49.7 kilometres, in April or July. "For sure, this year," said the team's general manager, Luca Guercilena.
"We have two windows that corresponding in two peaks in form: two weeks after Paris-Roubaix or after the Tour de France," Trek Factory Racing's Guercilena told La Gazzetta dello Sport. "It's for sure, this year. Cancellara has the record in his legs."
Ondřej Sosenka holds the hour record at 49.700 kilometres, set in Moscow on July 19, 2005. He beat Chris Boardman's 49.441 distance set in Manchester on October 27, 2000.
You have to go back to 1972 when Eddy Merckx rode 49.431 to find the next record. In 2000, cycling's governing body, the UCI wrote new rules that prohibited extreme positions and bikes. It pushed aside records set by Francesco Moser, Graeme Obree, Boardman, Miguel Indurain and Tony Rominger.
Cancellara will be cycling's first big star to attempt the hour record since Boardman's ride. The Swiss holds four World Champion time trial titles, the 2008 Olympic gold medal and multiple classics, including this year's Tour of Flanders and Paris-Roubaix.
"It's not as easy as it looks," Guercilena added. "To do 50 kilometres an hour, on the track, with a traditional bike, is much more complicated than riding 52 an hour in a Tour time trial on a specific bike with disc wheels and a stretched out position. Fabian has a much bigger frontal position than Bradley Wiggins or Tony Martin. He loses 15%."
The Italian confirmed a 25-person group is working on the hour project: 15, including engineers and biomechanics, from Trek bicycles and 10 from the team. He added they are trying to improve Cancellara's bike and wheels while staying within the UCI's 2000 rules.
Guercilena named Anadia, Portugal, or in Aguascalientes, Mexico, as possible locations. Anadia sits at 49 metres, perfect for a record attempt at sea-level. Aguascalientes, at 1800, hosted the recent World Cup that saw several records broken. Guercilena said the air density can be regulated inside.
"Mexico contacted us, but it has to be at sea level," Guercilena told Cycling Weekly last month. "We need to think of tracks that are around Europe, we can't be a month and a half far away from Europe."
Guercilena said that he hopes Cancellara's attempt will encourage others like Martin and Wiggins.
"It's a good thing for cycling to have a big name going for the record," he added last month. "Given that Fabian's the most experienced, pro since 2001, if he tries then his attempt will send a message to the other cyclists. The big names need to return to the track and go for one of cycling's important gems."
Thank you for reading 20 articles this month* Join now for unlimited access
Enjoy your first month for just £1 / $1 / €1
*Read 5 free articles per month without a subscription
Join now for unlimited access
Try first month for just £1 / $1 / €1