Fabian Cancellara challenges Phil Gaimon to beat him in a 'Chasing Cancellara' race
Challenge comes after Phil Gaimon repeated the rumour in his book 'Draft Animals' that Fabian Cancellara may have used a hidden electric motor during the 2010 season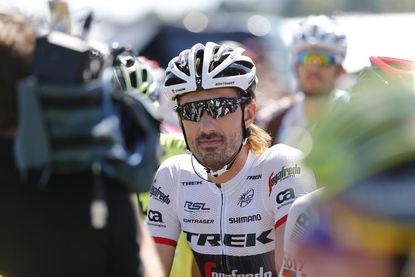 (Image credit: Yuzuru Sunada)
Fabian Cancellara has issued American former pro Phil Gaimon an invite to try and beat him during one of his 2018 Chasing Cancellara events.
Cancellara's invite comes after Gaimon repeated a rumour in his book Draft Animals that the Swiss rider may have used a hidden electric motor in his bike to win the 2010 editions of the Tour of Flanders and Paris-Roubaix.
"Hi @philgaimon, I actually don't know you, but I kindly invite you to beat me at one of my 8 #ChasingCancellara races, by next year 2018," wrote Cancellara on Twitter.
>>> Phil Gaimon issues statement on Fabian Cancellara motor doping allegation
"You choose the @chasecancellara - date out of 5 countries. I am very curious to see how much watt [sic] you can push! Start training!"
Cancellara finished his message with the hashtag "#nomotoneeded".
Gaimon was quick to respond to the challenge, saying "Are there cookies? Bike rides should have cookies" in reference to a running Gaimon joke that he loves eating cookies. However, at time of writing he has not stated that he will or will not ride against Cancellara.
The Chasing Cancellara events were created in 2017. Members of the public can enter to try and out-ride the Classics and time trial specialist over a 10-15km route.
Since retiring at the end of 2016, Gaimon has been attempting to beat numerous Strava segment records that were previously held by riders who he considers have doped. Many of his attempts have been filmed as part of his 'Worst Retirement Ever' series posted on his YouTube channel.
Earlier this week, Cancellara's lawyers demanded that the book be removed from sale in the wake of widespread reporting of the passage in Gaimon's relating to Cancellara.
Gaimon subsequently published a statement on his website that said he "repeated a rumor that's well-documented and many years old" in his book.
He added: "Put a gun to my head and that's what I believe so I'd be a liar if I left it out, but I claim no revelations or proof, so I don't see it being 'taken off the shelves' except by the folks buying it".
Cancellara's invite could show a softening of the situation between the two former riders – or perhaps it's the start of a grand battle.
Thank you for reading 20 articles this month* Join now for unlimited access
Enjoy your first month for just £1 / $1 / €1
*Read 5 free articles per month without a subscription
Join now for unlimited access
Try first month for just £1 / $1 / €1