Think you can beat Fabian Cancellara? Now you can prove it
Former pro and Classics legend Fabian Cancellara invites the public to race against him in three timed events in his native Switzerland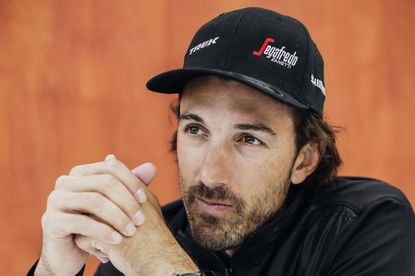 Your chance to race against me! Can you beat me?
More info on https://t.co/k7G0yPbg9X#chasingcancellara pic.twitter.com/raA562WX5E
— Fabian cancellara (@f_cancellara) May 4, 2017
Fabian Cancellara has issued a challenge to the world's amateur cyclists: "see if you can beat me".
The Swiss former professional rider has announced a series of three 'Chasing Cancellara' events in his home nation, where members of the public try and out-ride the Classics legend over a 10-15km route.
"The race of your life," says the official event website. "Race against the Champion and try to overtake and beat him! How strong is #Spartacus still after his retirement?"
Riders can register online, with the first 100 of the 333 maximum to register getting automatic entry and the remaining participants chosen at random via a draw.
>>> Fabian Cancellara's triple Strade Bianche wins honoured with special milestone
The events take place in Andermatt (June 25), Aigle to Villar-sur-Ollon (September 10) and Lugano (September 23). All three events are run on closed roads and finish with a post-race pasta party as part of the entry fee, which start at CHF 79 (£61.73 at time of writing).
A VIP Experience package is also available, which includes a 50-100km ride with Cancellara and evening dinner with him. More information is available via the Chasing Cancellara website.
Cancellara enjoyed a highly successful 15-year career as a professional rider before retiring at the end of last season. He was time trial world champion on four occasions, won seven stages of the Tour de France, won Paris-Roubaix and the Tour of Flanders on three occasions each, and was Olympic time trial champion in 2008 and 2016. Plus many more victories.
In other words, you'd have to be pretty good to beat him.
Thank you for reading 20 articles this month* Join now for unlimited access
Enjoy your first month for just £1 / $1 / €1
*Read 5 free articles per month without a subscription
Join now for unlimited access
Try first month for just £1 / $1 / €1