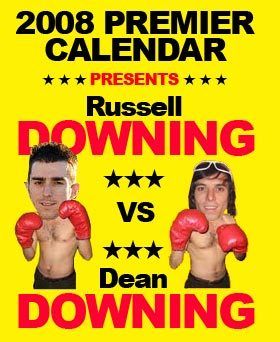 Get The Leadout Newsletter
The latest race content, interviews, features, reviews and expert buying guides, direct to your inbox!
Thank you for signing up to The Pick. You will receive a verification email shortly.
There was a problem. Please refresh the page and try again.
It was a decent weekend to be a Downing ? unless, of course, you were hapless Middlesbrough footballer Stewart Downing, who suffered an FA Cup exit at the hands of Cardiff, in which case it was a rotten one.
Of course the competition literally everyone in the Downing family ? and a good few who are not ? is talking about is The Battle of the Brothers. It?s Noel and Liam without the duffle coats, swagger or a bidon full of premium-strength lager.
There?s no doubt about it, the Bikeline Two-Day gave first blood to the Rapha Raider, Dean.
Swipe to scroll horizontally
ROUND ONE: BIKELINE TWO-DAY
Dean was quick off the mark, dominating his opponent with a flurry of good results. You can?t beat second, third, second without being exceptional.
Russell made the break on the final stage but a loose bottle cage forced him to stop for a quick repair job. In the world of sibling rivalry, that sounds like a bit of a made-up excuse to us ? a bit like crying out to mum that your brother?s hitting you when he?s not even in the same room.
However, we?ve seen pictures and we know he had a genuine mechanical problem.
JUDGE?S VERDICT ?I monstered him,? Deano may, or may not, have said as friendly hostilities opened. He?s well on top but Russell knows it?s a marathon not a sprint. You don?t win in the first round unless you knock your opponent out ? and Russell?s definitely still standing, weighing up his next move.
NEXT UP Round Two: Girvan Stage Race (March 22-24) ? where we?ll mix some more sporting metaphors in The Battle of the Brothers
Swipe to scroll horizontally
Downing was the model of consistency with two second places and a third in the weekend?s three stages.
Downing senior put his win down to a much-improved time trial performance, where he was second behind Ian Wilkinson. ?Last year I did a terrible time trial. I was 30 seconds behind Chris [Newton] and that was it really,? he said.
?I was a lot more focused on doing a good time this year because I knew how important it was. John [Herety] said how the race completely changed when we lost Chris [Newton, who broke his collarbone in a training crash last week] and that we needed to be right up there after the time trial because it?d be difficult to split it.
?I did a good time trial and surprised myself and surprised John.
?The Saturday afternoon stage is short and so intense it?s difficult to control but it put me in the lead.?
Being the overall leader was a new experience for Downing. ?I?ve never had a leader?s jersey going into the last stage before. It was pretty nerve-wracking actually because you?ve got it all to lose.
?We knew we?d be having to work all day because when you?re the strongest team on paper and you?ve got the jersey there?s no hiding.
?The attacks went from the start on Sunday. Neil Coleman went first, then Simon Gaywood, so we knew Plowman Craven were up for it.
?We hoped a group of about four or five might go so we could control it easily but eight got clear and that was too many really. And Russell was in it. We pegged it at about 40 seconds and the young lads did some really great work. They showed a lot of maturity.
?On the final climb Kristian House did an absolutely amazing turn and him Rob Partridge and Dale Appleby kept me in touch with Evan [Oliphant of PCA, his closest rival]
?It?s nice to get off to a good start. It?s the first big race of the season and you never know how good everyone?s going to be because it?s the first time everyone is all together.?
What?s this? There?s an interloper in the midst of the Cycling Weekly Super Team Challenge already.
Our competition to crown the best team of 2008 has already had its delicately-poised applecart upset by one of the underdogs ? Scienceinsport-Trek.
While the predicted scrap between the men in black and the, er, men in pink and blue, was a feature of the Bikeline, Ian Wilkinson struck a very definite blow for the so-called underdogs.
Wilko?s two stage wins means SIS-Trek are right there on merit, sitting in third place after one event. Pinarello are - perhaps temporarily - relegated from the standings.
Rapha are out in front thanks to Downing and third-placed Dale Appleby. Plowman Craven have stage winner and overall runner-up Evan Oliphant to thank for their points.
Wilkinson said: "It's good to make a bit of a monkey of the Cycling Weekly website by winning a couple of stages.
"Given the number of riders Rapha, Plowman Craven and Pinarello have I think it's fair enough they've the big three but we're not just making up numbers. We're serious about it. We've got a great team, great staff and great kit.
"We haven't got quite the strength in depth of other teams but they can't be good every week, so we'll take our chances when we can."
Chris Newton's withdrawal made Wilkinson the favourite for the time trial. "There's no doubt Chris would have been immensely difficult to beat. I hope he gets better soon. But I had a think and with my cross and mountain biking I felt there wouldn't be many as well prepared for it as me," he added.
"The final stage was a real bonus. It was actually one of the easiest wins I've had because a nice break went and we all rode at a nice steady tempo.
"There were so many people trying to keep it all together at the finish that I knew it was unlikely anything would stay clear so I took my chance."
For now SIS occupy third place in the Super Team Challenge and now Wilkinson is looking to the Girvan.
"We've had the same number of Premier Calendar wins in a weekend as we had last year, so it's really excellent. It takes the pressure off and I think, as bike riders, that's when you have your best results," he said.
STANDINGS
1. Rapha-Condor-Recycling 11pts
2. Plowman Craven 8pts
3. SIS-Trek 6pts
THE RULES
Premier Calendar results 1st ? 10pts, 2nd ? 5pts, 3rd ? 1pt
Premier Calendar stage wins 1st ? 3pts
International one-day races and National Championships 1st ? 15pts, 2nd ? 7pts, 3rd ? 3pts
Photo gallery: Bikeline Two Day 2008. By Andy Jones
Dean Downing clinches Bikeline Two-Day
Stage 2: Oliphant takes the honours
Stage 1: Wilkinson wins the time trial
The Big Preview: Bikeline Two-Day
Thank you for reading 20 articles this month* Join now for unlimited access
Enjoy your first month for just £1 / $1 / €1
*Read 5 free articles per month without a subscription
Join now for unlimited access
Try first month for just £1 / $1 / €1
Get The Leadout Newsletter
The latest race content, interviews, features, reviews and expert buying guides, direct to your inbox!
Sports journalist Lionel Birnie has written professionally for Sunday Times, Procycling and of course Cycling Weekly. He is also an author, publisher, and co-founder of The Cycling Podcast. His first experience covering the Tour de France came in 1999, and he has presented The Cycling Podcast with Richard Moore and Daniel Friebe since 2013. He founded Peloton Publishing in 2010 and has ghostwritten and published the autobiography of Sean Kelly, as well as a number of other sports icons.