Flanders spectator permanently paralysed after Vansummeren crash
The spectator who was involved in a high-speed collision with Johan Vansummeren at the Tour of Flanders earlier this year, faces permanent paralysation as a result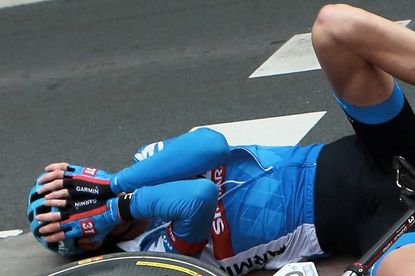 (Image credit: Watson)
Belgian rider Johan Vansummeren will continue to race on a new two-year contract with France's AG2R team next year, but the spectator he collided with in the Tour of Flanders on April 6 will remain paralysed for her life.
"She talks like a two year old," Marie-Claire Moreels' husband Philippe told Belgian's Het Laatste Nieuws. "Something she tries to explain is forced with gestures."
Vansummeren abandoned after the crash in Wielsbeke, around 84km west of Brussels. As seen in a YouTube video that a fan uploaded, the peloton split around a traffic island where Moreels stood with two men and child near the 57km mark in the 259km classic.
Though suffering a black eye and receiving stitches on his face, Vansummeren returned to race the following week in Paris-Roubaix. He won the cobbled classic in 2011. Moreels, who now is 66-years-old, remained in the hospital.
"The next day, I had a conversation with an anaesthetist," Philippe Moreels continued. "She told me that Marie-Claire had suffered severe trauma, but that she would mostly recover."
Two weeks ago, the Moreels heard that her condition would not improve. The right side of her body is paralysed, which forces her to remain in a wheelchair. Moreels helps his wife eat and use the toilet, which the newspaper explained that he must do for the rest of her life.
Besides physically, the family have suffered financially. The medical costs have reached €10,000 (£7990) without any compensation received, as it remains uncertain who is responsible for the accident. Insurers are unable to pay until a criminal case in the hands of a Kortrijk prosecutor reaches its end.
"It remains certain, however," Moreels added, "that my wife will be in serious need for the rest of her life." Unbelievable."
The YouTube video shows zebra stripes and a sign further ahead to mark the island, but it is unclear if a race signaller stood and waved a warning flag. The Flanders Classics race organiser receives help from 1410 such signallers for its biggest race of the season.
Vansummeren has raced the last five years with American team Garmin-Sharp, but for 2015 and 2016, has a contract with French WorldTour team AG2R La Mondiale.
"I'm not so bad off, but that's not important," Vansummeren said after the incident. "I'm shocked. I feel for the other people who are involved."
Credit: Watson
Late solo move by Niki Terpstra nets him the biggest win of his career; Wiggins and Thomas finish in chase
Thank you for reading 5 articles this month* Join now for unlimited access
Enjoy your first month for just £1 / $1 / €1
*Read 5 free articles per month without a subscription
Join now for unlimited access
Try first month for just £1 / $1 / €1