Floyd Landis plans to start professional cycling team
The American was stripped of his Tour de France victory but hopes to return to racing as a team boss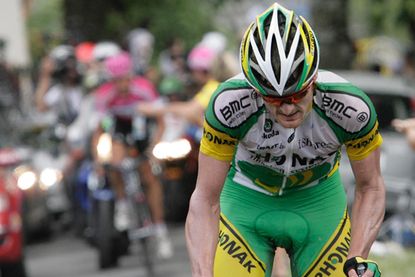 Former doper and stripped Tour de France winner Floyd Landis plans to launch his own professional cycling team in 2019, according to reports.
Landis, a key rider in the Armstrong era turned whistleblower, retired from racing in 2011 but now hopes to return as a team boss.
The American won the 2006 Tour de France but was stripped of the victory after testing positive for testosterone.
But now Landis hopes to set up a continental level team, reports the Wall Street Journal.
Since leaving the peloton, the 42-year-old has set up a shop selling legal hemp and cannabidiol, which would lend its name to the team – Floyd's of Leadville Pro Cycling Team.
According to the Wall Street Journal report, the cash for the new team would be taken from the money given to Landis after a lawsuit against Lance Armstrong.
After Landis blew the whistle on Armstrong in 2010, Armstrong paid $5million to the government in a settlement earlier this year.
As the person who first filed the lawsuit back in 2010, Landis was eligible for up to 25 per cent of the payout.
Landis will pay in around $750,000 for the team, according to the Wall Street Journal.
The new outfit will be formed from the Silber Pro Cycling Team after the title sponsor decided not to renew earlier this year.
Landis moved on to the Phonak team in 2005 and the following year finished first in the Tour de France before failing a dope test for synthetic testosterone.
Months later he was stripped of his title, which was eventually given to Spaniard Oscar Pereiro.
On the Tuesday after the race, Landis pulled out of a criterium race in Holland, one that would have been extremely lucrative for the Tour winner.
It raised suspicions, which were confirmed when it was revealed he'd failed a dope test.
Landis set the lawsuit in motion against Armstrong in 2010 under the False Claims Act, claiming that the Texan had defrauded the government out of money by cheating to win bike races.
Thank you for reading 20 articles this month* Join now for unlimited access
Enjoy your first month for just £1 / $1 / €1
*Read 5 free articles per month without a subscription
Join now for unlimited access
Try first month for just £1 / $1 / €1