Former world champion Thor Hushovd eyeing up all-Norwegian team
Thor Hushovd wants to set up a team in the mould of the Cervelo Test Team that he was part of between 2009 and 2010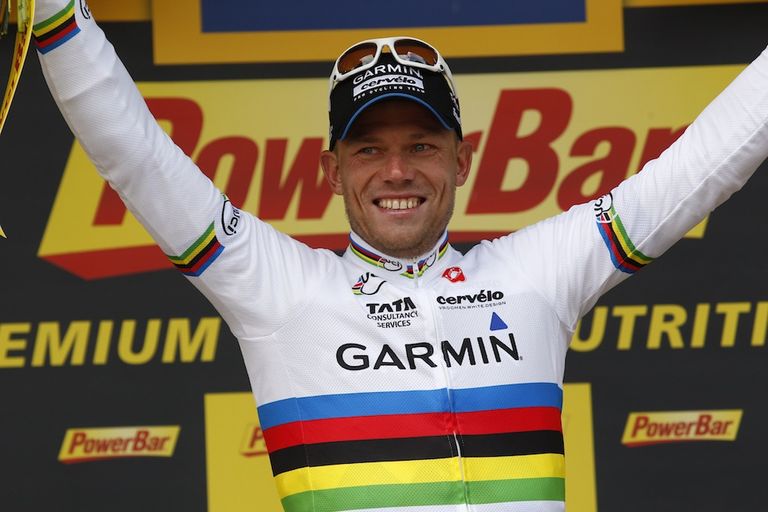 (Image credit: Watson)
With his wheels now hung up, Thor Hushovd isn't looking to step away from the sport - desiring instead to set up a totally Norwegian professional team.
The two-time Tour de France green jersey winner told press at the Arctic Race of Norway that his plan was to set up a team that is "100 per cent Norwegian", following in the footsteps of current Pro Continental squad Roompot Oranje Peloton, which only employs Dutch riders.
And Hushovd, who rode in the world champion's stripes in 2011, believes there are Norwegian companies who would be interested in sponsoring his project in time to launch it in 2017.
"There are companies in Norway who can afford it. We have a good product. I think there are one or two want to step in cycling," he is quoted as saying on nos.nl.
"I will be the manager of the team, surrounded by the best Norwegian riders. Then we automatically think of Edvald Boasson Hagen and Alexander Kristoff. The latter will of course be expensive, I realise that."
"The Norwegian people starting completely in touch of course. And the ban is due to the good results of the Norwegian riders. I have a good feeling."
Hushovd told reporters that he would be keen to follow the model laid out by the Cervelo Test Team, of which the Norwegian was a part of between 2009 and 2010.
"I liked the Cervelo TestTeam a lot, and I'd like to go into that direction," he added. "I want a simple structure with good people. I don't want many distractions, just people who do their work.
"That's what we had at Cervelo, where we signed some riders who weren't the best when they joined but who did great things together as a group."
Should Hushovd succeed with his Norwegian dream, he would follow in the footsteps of both Team Roompot and Euskadi-Euskatel, who raced the majority of its 20 seasons with a totally Basque squad.
Take a look at the new Cervelo S5