Thor Hushovd retires: his career in pictures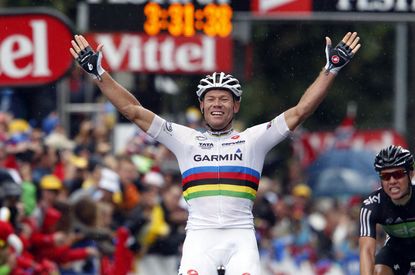 (Image credit: Watson)
Thor Hushovd completed his last race as a professional on Saturday. The Norwegian hung up his wheels after taking part in the Primus Classic Impanis-Van Petegem, won by his BMC Racing team-mate Greg Van Avermaet.
The 36 year old closes out a 15-year tenure in the professional peloton, during which time he amassed an enviable set of victories, including some of the most sought-after prizes in the sport: not least, twice winning the Tour de France points classification (in 2005 and 2009) and taking the road race world championship title in 2010.
Along the way, he's won stages in all three Grand Tours, including an impressive haul of 10 stages of the Tour. Other high-profile wins include Ghent-Wevelgem in 2006 and Omloop Het Nieuwsblad in 2009... and a stage of the 2011 Tour of Britain.
In recent years, Hushovd has been troubled with illness and injury. He's suffered recurring effects from mononucleosis since 2012, and has had to sit out what would have been his final race - the 2014 world championships road race - due to crash injury.
"It is a strange feeling and it is kind of sad in one way," said Hushovd. "There is a lot of emotion. But I am really in a good place and proud of my career. It has been a great 15 years."
Hushovd first made his mark by winning the under-23 world time trial title in 1998, but wasn't signed to a professional team until 2000, when he joined Credit Agricole. The French outfit would be his home for eight years, and the sight of the 'Mighty Thor' thundering across the line with arms aloft in Credit Agricole's distinctive green kit became a familiar one.
A change to the Cervelo Test Team followed in 2009, and then to Garmin-Cervelo in 2011. Since 2012, Hushovd has ridden for the BMC Racing team.
A fresh-faced Hushovd started his career at Credit Agricole in 2000
Riding in the 2004 Criterium International
In one of the most bizarre incidents in the Tour de France's history, Hushovd suffered a deep cut to his arm from a large cardboard hand waved by a spectator during the 2006 race. To add insult to injury, he also lost the race lead
Leading an escape during stage 11 of the 2006 Vuelta a Espana, the year he won the race's points classification
Winning stage three of the 2007 Tour de France
Not sure the tongue helped, but Hushovd won stage two of the 2008 Tour de France
Riding for Cervelo during the Omloop Het Nieuwsblad in 2010
Hushovd wins the 2010 World Championship road race
Slightly ill-advised 'Thor' wig for the 2011 Tour de France team presentation
Hushovd with mobile phone during the 2011 Tour de France
No 'curse of the rainbow jersey' for Hushovd, as he wins stage 16 of the Tour de France in 2011
Taking the win on stage three of the Tour of Poland in 2013
Suffering after a crash in Omloop Het Nieuwsblad
How we'll remember Hushovd: Grit and determination during 2014 Paris-Roubaix
Thor Hushovd's great hits: wins since 2000
2013
Tour of Austria; stage three
Tour of Poland; stage three
Tour of Poland; stage five
Tour du Haut Var; stage one
Norwegian road race champion
Arctic Race of Norway; stage two
Arctic Race of Norway; stage four
Arctic Race of Norway; overall
Arctic Race of Norway; points classification
Tour of Beijing; stage one
2011
Tour de France; stage 13
Tour de France; stage 16
Tour de Suisse; stage four
Tour of Britain; stage four
2010
Norwegian road race champion
Tour de France; stage three
World road race champion
Vuelta a Espana; stage six
2009
Tour de France; stage six
Tour de France; green jersey
Tour of California; stage three
Tour du Poitou Charentes et de la Vienne; stage 4
Tour of Missouri; stage three
Tour of Missouri; sprint classification
Omloop Het Nieuwsblad
2008
Tour de France; stage two
Paris-Nice; prologue
Paris-Nice; points classification
Tour of the Mediterranean; stage one
Tour of Catalonia; prologue
Tour of Catalonia; stage one
Tour of Catalonia; points classification
Four Days of Dunkirk; stage six
2007
Tour de France; stage four
Giro d'Italia; stage seven
2006
Tour de France; stage 20
Tour de France; prologue
Vuelta a España; stage six
Vuelta a España; points classification
Dauphiné Libéré; stage seven
Tirenno-Adriatico; stage four
Tour of Catalonia; stage three
Tour of Catalonia; points classification
Four Days of Dunkirk; points classification
Ghent-Wevelgem
2005
Tour de France; green jersey
Vuelta a España; stage five
Dauphiné Libéré; stage two
Tour of Catalonia; stage seven
Tour of Catalonia; points classification
National time trial champion
2004
Tour de France; stage eight
Dauphiné Libéré; stage one
Coupe de France
Classic Haribo
Grand Prix de Denain
Tour de Vendée
National time trial champion
National road race champion
2003
Dauphiné Libéré; stage two
Vuelta a Castilla y Leon; stage one
2002
Tour de France; stage 18
Tour de l'Ain; stage two
2001
Tour de France; team time trial
Tour de Normandie; overall
Tour de Normandie; points classification
Tour of Sweden; overall
Paris-Corrèze
Norwegian Thor Hushovd retires after this Saturday's GP Impanis-Van Petegem, concluding an illustrious career
Norwegian former World Champion and double Tour de France green jersey winner Thor Hushovd will quit at end of season
Thank you for reading 5 articles this month* Join now for unlimited access
Enjoy your first month for just £1 / $1 / €1
*Read 5 free articles per month without a subscription
Join now for unlimited access
Try first month for just £1 / $1 / €1