GB riders attack Shane Sutton over claims that TUEs can be used to find marginal gains
Katie Archibald and Jody Cundy criticise comments of former BC coach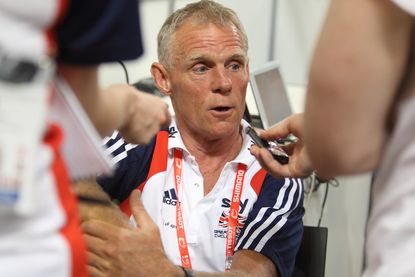 (Image credit: CJ Farquharson)
Great Britain riders have reacted with anger to claims by former British Cycling coach Shane Sutton that therapeutic use exemptions (TUEs) can be legitimately used to find an edge over rivals.
Sutton, who resigned as British Cycling's technical director in April 2016, made the comments in a BBC documentary broadcast on Sunday. When asked if "finding the gains might mean getting the TUE", he repeated the question before replying, "Yes, because the rules allow you to do that."
He continued: "If you've got an athlete that's 95 per cent ready and that little five per cent niggle or injury that's troubling them, if you can get the TUE to get them to 100 per cent, of course you would in them days.
"The business you're in is to give you the edge on your opponent and ultimately it's about killing them off but you definitely don't cross the line and that's something we've never done."
>>> British Cycling threatened with loss of funding if there's any repeat of 'Jiffy bag' case
Current Great Britain cyclists reacted with anger to the comments, with Olympic gold medallist Katie Archibald and multiple Paralympic gold medallist Jody Cundy both criticising the Australian.
"I saw about the TUEs and him saying it was a bendable thing. If that's the attitude people are taking to medical things, then I'm glad he's gone," said Cundy, as reported by the Times.
"It just pisses me off that there are people out there who are willing to abuse it to get an advantage."
>>> Shane Sutton: 'I was loved by the staff' at British Cycling
Cundy's anger was shared by Archibald, who said that the practice was unethical and that TUEs were not being used in a similar way by the current squad.
"That sounds outrageous and it is something that I struggle to believe has been true practice," Archibald said. "I naively want to hope that there's been some sort of manipulation or mistranslation. That's completely against the ethics of the sport."
"Attaching a term like 'marginal gains' to that sort of practice is also quite distressing because it's almost a trademark British Cycling phrase. Certainly nobody in my squad would attach that practice to the phrase marginal gains."
Thank you for reading 20 articles this month* Join now for unlimited access
Enjoy your first month for just £1 / $1 / €1
*Read 5 free articles per month without a subscription
Join now for unlimited access
Try first month for just £1 / $1 / €1