We used TUEs to get marginal gains, says former Team Sky and British Cycling coach Shane Sutton
Sutton makes the comments in BBC documentary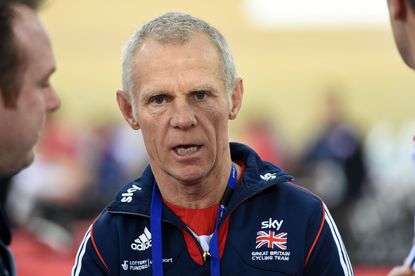 (Image credit: Andy Jones)
Shane Sutton has said that therapeutic use exemptions (TUEs) for corticosteroids were essentially marginal gains used to give riders an edge over opponents.
Sutton, who left Team Sky and British Cycling in April 2016 and now coaches the Chinese track team, made the comment in an interview as part of a documentary aired on BBC Two on Sunday night.
"If you've got an athlete that's 95% ready and that little 5% niggle or injury that's troubling them, if you can get the TUE to get them to 100%, of course you would in them days," Sutton said in Britain's Cycling Superheroes: the Price of Success.
>>> Team Sky, British Cycling, and Bradley Wiggins not exonerated by end of 'Jiffy bag' investigations, says MP
"The business you're in is to give you the edge on your opponent and ultimately it's about killing them off but you definitely don't cross the line and that's something we've never done."
He was asked if "finding the gains might mean getting the TUE" and repeated the question before replying, "Yes, because the rules allow you to do that."
The airing of the documentary comes just days after UK Anti-Doping closed its 14-month investigation into the contents of a mysterious Jiffy bag delivered to Team Sky at the 2011 Critérium du Dauphiné. UKAD neither cleared nor condemned those involved, with a lack of medical records meaning that it was unable to determine what was in the Jiffy bag.
Attention rose after Russian hacker Fancy Bears released medical data on Olympic athletes including 2012 Tour de France winner Bradley Wiggins. It showed the team requested and received permission to treat Wiggins with triamcinolone, a corticosteroid, for his allergies ahead of the 2011 and 2012 Tours, and 2013 Giro d'Italia.
>>> British Cycling threatened with loss of funding if there's any repeat of 'Jiffy bag' case
Wiggins said in an earlier interview that he had a "history of allergy to pollen." He felt like he was "breathing through a straw at times."
Former professional rider David Millar has previously said that he had received a TUE to take triamcinolone for a "fake tendon issue", enabling him to lose weight without losing power, and said that Team Sky were "gaming the system" with their use of TUEs.
"I think that's quite obvious. I think we all know that. It's just hugely disappointing," Millar explained to BBC.
"Team Sky were zero tolerance, so you would think that zero tolerance would mean you weren't going to tread into that very grey area which is cortisone use. When I heard that, a little bit of me died to be honest."
>>> Bradley Wiggins 'breaks silence' and requests source of 'Jiffy bag' allegation
Sutton's "worrying" comments left World Anti-Doping Agency president Craig Reedie "extremely disappointed."
"Because the TUE system recognises accurate and responsible medical evidence. It's designed to help athletes who have illnesses and conditions to be able to take, under proper medical advice, substances which are on the prohibited list to take part in sport," Reedie told The Times.
"The inference is that the system can be used and that's the worrying thing if someone is seeking to do that."
Thank you for reading 20 articles this month* Join now for unlimited access
Enjoy your first month for just £1 / $1 / €1
*Read 5 free articles per month without a subscription
Join now for unlimited access
Try first month for just £1 / $1 / €1