Team Sky, British Cycling, and Bradley Wiggins not exonerated by end of 'Jiffy bag' investigation, says MP
"A cloud now hangs over one of our greatest Olympians," says Damian Collins MP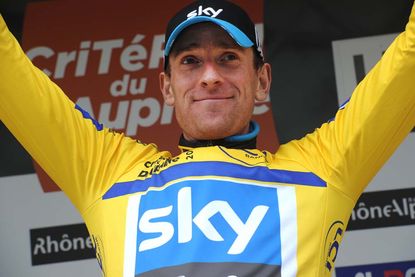 (Image credit: Graham Watson)
The closing of an investigation into the mysterious Jiffy bag delivered from British Cycling to Team Sky and Bradley Wiggins at the 2011 Critérium du Dauphiné is "not an exoneration of anyone" according to an influential MP.
Damian Collins, the chair of the Digital, Culture, Media and Sport Select Committee which interviewed various figures connected to the controversy and where Dave Brailsford said that the package contained the decongestant Fluimucil when giving evidence in December 2016, said that the UK Anti-Doping (UKAD) investigation coming to an end without being able to determine what was in the package was not acceptable.
>>> Bradley Wiggins 'breaks silence' and requests source of 'Jiffy bag' allegation
"This is not an exoneration of anyone," Collins told The Telegraph. "What's clear from UKAD's statement is if Sky and British Cycling had kept proper medical records, this could have been wrapped up a lot sooner. It is unacceptable. A cloud now hangs over one of our greatest Olympians."
With the investigation having been hampered by a "lack of contemporaneous medical records" kept by British Cycling and Team Sky, UKAD chief executive Nicole Sapstead said that her organisation had also passed over some information to the General Medical Council (GMC), which could possibly start a new investigation into the case.
While saying that he would welcome the start of an investigation into the case by the GMC, Collins also said that the unsatisfactory ending to the UKAD investigation highlighted the lack of powers held by the organisation.
>>> British Cycling and Team Sky issue statements in reaction to UKAD 'Jiffy bag' investigation
"I think it clearly shows that UKAD does not have the powers it needs and I've been very clear on this," he continued. "UKAD currently relies on people's willingness to cooperate. It has no legal authority to compel anyone to speak."
The Digital, Culture, Media and Sport Select Committee is currently completing an inquiry into combatting doping in sport, which is due to be completed in the next few weeks, with Collins saying that the criminalisation of doping in sport could help to make similar investigations more effective in the future.
British Cycling, Team Sky, and Bradley Wiggins all welcomed the closing of UKAD's investigation, with Wiggins saying that the period had been "a living hell" for him and his family.
Thank you for reading 20 articles this month* Join now for unlimited access
Enjoy your first month for just £1 / $1 / €1
*Read 5 free articles per month without a subscription
Join now for unlimited access
Try first month for just £1 / $1 / €1