GESINK: I NEED TO LEARN TO DESCEND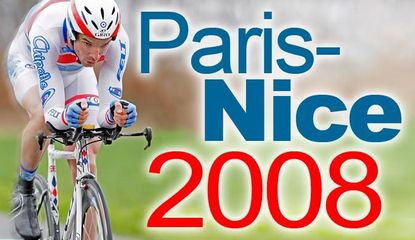 Robert Gesink spoke of his disappointment after losing the Paris-Nice yellow jersey in an aggressive and chaotic sixth stage.
?I?m less fresh than I was before. On the climb there were riders going up in the big ring, but I wasn?t able to do that,? he said.
Gesink lost touch with the leaders on the descent of the Tanneron, a twisting and narrow downhill with gravelly corners and few straight sections.
?I don?t think I underestimated the Tanneron ? I knew it was a very dangerous descent, and when I saw Frank Schleck fall in front of me I was afraid. I almost crapped in my yellow shorts,? he joked.
?I?ll have to learn how to descend better. But this is cycling. It?s disappointing to lose the whole race on a downhill, but Rebellin made the gap. Then I couldn?t get back on in the wind. It was very difficult, and I pushed too hard at the start of the chase.?
Gesink didn?t rule out trying to regain his race lead, but with Rebellin leading him by a healthy margin, it looks like the Dutchman might have to put this Paris-Nice down to experience.
?I?ll have a think about what to do tomorrow. But for now, I?m just disappointed,? he said.
PARIS-NICE 2008: STAGE REPORTS
Stage six: Gesink sinks
Stage five: Quick Step make it three
Stage four: Evans above
Stage three: Flying Finn takes the win
Stage two: Steegmans back on top
Stage one: Steegmans rides the storm
Prologue: Hushovd wins
RELATED LINKS
Gesink: I need to learn how to descend
Interview: Cadel Evans
Paris-Nice photo gallery: new photos added daily
Millar out of Paris-Nice
Stage four analysis
Stage three analysis
Stage one analysis
Millar goes down but isn't out
Prologue analysis: winners and losers
Big names line up for Paris-Nice and defy UCI
Teams vote to ride Paris-Nice
Paris-Nice preview: does the route suit David Millar?
BLOG: PARIS-NICE
Days two and three
Day one
Thank you for reading 20 articles this month* Join now for unlimited access
Enjoy your first month for just £1 / $1 / €1
*Read 5 free articles per month without a subscription
Join now for unlimited access
Try first month for just £1 / $1 / €1