Get your kicks as Route 66 is mapped for cyclists
Bike shops, food stops and internet-enabled libraries are mapped on the Route 66 map for cyclists, just make sure you stock up for the deserts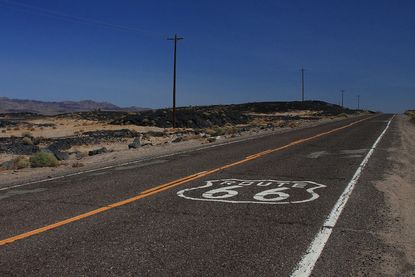 Planning an American road trip down Route 66? Forget hiring a car and take your bike instead thanks to a new set of maps to help cyclists along the famous road.
Stretching from Chicago to Santa Monica, California, the route is a favourite for tourists, passing through St Louis, the Grand Canyon and the deserts of the American Southwest.
Now, the Adventure Cycling Association has mapped the 2,500-mile route for cyclists, picking out cycling shops, food stores and other amenities, as well as highlighting particularly hazardous stretches along the way.
"The route contains a diversity of landscapes from the flat prairie grasslands of Illinois to the rolling hills of the northern reaches of the Ozark Mountains to the vast, open desert spreads of the Southwest," says Adventure Cycling cartographer Jenn Milyko.
"I think there will be many riders out there trying to recapture the romance of a road trip on Historic Route 66, this time from the seat of their bicycle.
"They'll have lots of opportunities to explore the surviving pieces of architecture, abandoned bridges, and businesses from the golden era of the Mother Road.
"In addition, there's the change in scenery from the river valleys, a bit of the Ozark Mountains and the red deserts to the Pacific Ocean."
The route is split into six maps, each costing $15.75, or $88.50 for the pack of six. Visit the Adventure Cycling Association website for more information.
Thank you for reading 20 articles this month* Join now for unlimited access
Enjoy your first month for just £1 / $1 / €1
*Read 5 free articles per month without a subscription
Join now for unlimited access
Try first month for just £1 / $1 / €1