GOOD FRIDAY WARM-UP AT THE HILL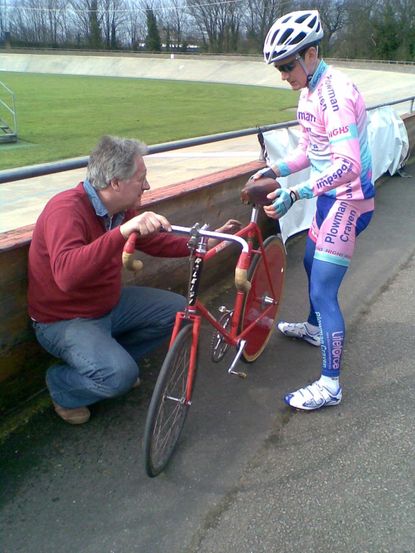 Former National derny-paced Champion Simon Gaywood will be trying his hand behind the bigger Triumph Thunderbird bikes at the Good Friday meeting at Herne Hill.
The Plowman Craven rider enjoyed his first training session with pacer Derek Marlowe at the south London track this week: "The first time out was a bit shaky but I soon settled into a good rhythm behind 'Del Boy',? said Gaywood. ?He's done this for years, so I put total trust in his driving skills."
Having bumped the roller at the back of the bike on several occasions as the Thunderbird misfired, his trust in Marlowe and his mount were severely tested but Gaywood was enjoying the ride: ?They are awesome old bikes, and the buzz you get from riding behind them is something that few riders get a chance to experience,? he said.
Team manager Garry Beckett watched the session progressing: ?For a first timer Simon looked very impressive. A little bit stiff in the arms for the first couple of practice laps, but he soon relaxed and before we knew it, the pair of them were doing some pretty fast laps out there," he said.
Gaywood will be joined by team-mates Tony Gibb and James Jackson at the Good Friday meeting before flying to Scotland with Gibb in time to line-up at the start of the Girvan.
?It is obviously not ideal preparation for the Girvan,? said Beckett, ?but we as a team feel it?s important to support as many races and events on the British Calendar as is feasibly possible. Good Friday is such a historic meeting that it would be wrong not to support the efforts of the Southern Counties Cycling Union and Graham Bristow in keeping this event alive.?
RELATED LINKS
Big motors roar again at Good Friday meet
Thank you for reading 20 articles this month* Join now for unlimited access
Enjoy your first month for just £1 / $1 / €1
*Read 5 free articles per month without a subscription
Join now for unlimited access
Try first month for just £1 / $1 / €1