Unique Grinduro race to come to the UK this summer
Unique event will take place on the Isle of Arran on July 15.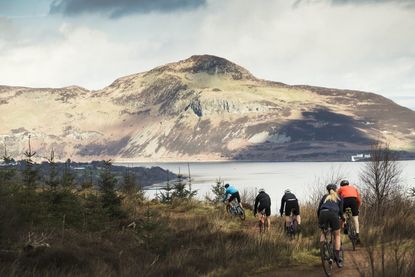 British cyclists will have a chance to experience something a little bit different when Grinduro lands in the UK this summer.
If you're not familiar with the Grinduro concept, it's basically a combination of a gravel road race and a mountain bike enduro race, with riders competing over a number of different stages over different terrain.
It's a race format that's proved popular in the States, with huge numbers of riders heading to the event in California, and race organisers expect a similar number to make their way to the Isle of Arran for the inaugural British event on July 15.
Cycling clothing company Giro has support the American event from the start, and marketing manager Amanda Schaper says that the company is looking forward to bringing it across the Atlantic.
>>> The best gravel and adventure road bikes for 2017
"The interest in our first two Grinduro events in Quincy, CA was overwhelming, and we're looking forward to returning there on October 7. But given the international interest, especially from our many friends in the UK, we knew we needed to take Grinduro abroad," Schaper said.
Fabric has also come on board to support the British event, with global marketing manager Neil Cousins promising a unique event.
"Grinduro fits perfectly with the Fabric philosophy: riding is all about how much fun you have and what could be better than a festival weekend riding the best all-road adventure the UK has to offer and celebrating with a well-earned beer or a scotch at the end?"
Thank you for reading 20 articles this month* Join now for unlimited access
Enjoy your first month for just £1 / $1 / €1
*Read 5 free articles per month without a subscription
Join now for unlimited access
Try first month for just £1 / $1 / €1