HAMMOND: READY FOR PARIS-ROUBAIX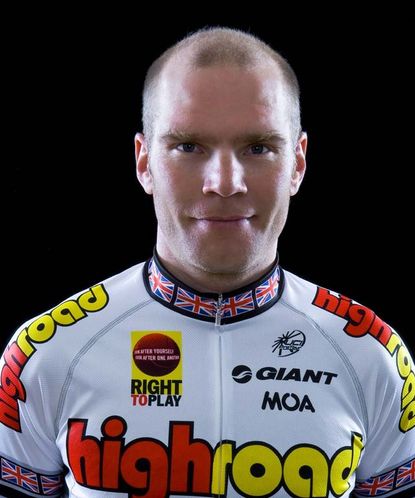 One phrase sums up Roger Hammond?s feelings for Paris-Roubaix: ?It?s the only race that?s 260 kilometres long that feels like it lasts 10 kilometres.?
?Every other big Classic, even Flanders, feels like the distance it is, but Paris-Roubaix is different: it lasts no time at all,? Hammond says.
His motivation to do well Roubaix (this Sunday, April 13) could not be clearer, and it makes sense. Hammond knows that the 'Hell of the North' is a race in which he can really shine.
Some people wrongly wrote off his third place in 2004 as a fluke - as if that were possible in a race like Roubaix. But in any case seventh in 2007 - after two years blighted by injury - proved them all wrong.
The High Road pro is injured this time round as well, after he crashed and hurt his left shoulder in Flanders. But he?s adamant it won?t hold him back.
?It hurts, and I have to take anti-inflammatories which aren?t good for the stomach. But better a bad stomach than more pain. Ideally what it needs is real rest, but that?s not possible.?
Hammond says that even though he?s got the painful shoulder, his base form is good.
?I felt strong yesterday [in Ghent-Wevelgem, where he took tenth]. If I hadn?t been I wouldn?t have got that result. And at Flanders, even though I crashed, I could get back into the action and finish well. That was important for my morale.?
With the weather still dry and clear in the area, should it continue that way, Hammond predicts ?a very similar race to last year. But it?ll still be hard, no matter what the weather does.?
His good results in previous Roubaixs mean that he will be closely watched on Sunday, but Hammond looks to the positive side of that.
?If I?m marked, that?s good. I know this is my kind of race. It?s like a climber before a mountain stage in a major Tour. And I?ll go in to do what I can. I?d prefer them to mark me closely, because that way if someone tries to match me, then I can put them under pressure quicker.
"If they don?t do that, and then suddenly pop up again at the end, that?s not so good.?
Unlike in the past, Hammond feels that he?s now in a team which really works for all the riders. He?s no longer stuck in a pyramid structure where he didn?t have as good a chance to play his own card.
?It?s much better that way. At Ghent-Wevelgem it was really good because at the team meeting in the morning it was made clear that all seven of us would have a chance. That?s good for the morale. I really think we?ve got one of the strongest teams for these races.?
On top of that, he points out, last year he rode himself into the ground at Wevelgem, taking second behind team-mate Marcus Burghardt and he paid a price for it on the following Sunday.
This time round, even after working hard at Wevelgem, he hasn?t gone so deep in the mid-week Classics. On Sunday, that could be a huge plus.
High Road will be checking out the Roubaix cobbles on Friday, but Hammond points out that although always worthwhile the reconnaissances have a limited use ?because when you?re by yourself you can pick and choose a line.?
?When you?re in a group of 200 riders, that?s not the case. You just have to follow the guy ahead of you. You?ve got a few seconds to choose, sometimes you have even less than that. You just go.?
The cobbles are always a challenge. But one of the biggest rivals on Sunday will be Tom Boonen. Unable to win in Flanders after team-mate Stijn Devolder?s attack and on a bad day in Ghent-Wevelgem Hammond says the pressure is definitely on the Quick Step leader.
?He?ll be racing hard for sure. He?s changed a lot actually, in terms of the way he races.?
?Quick Step have a new-found hero and Boonen will be out to make a point. Hopefully he?ll attack so hard he?ll burn himself out.?
?Then again, he might take off with 100 kilometres to go and we?ll never see him again!.? he says.
Boonen or no Boonen after a Classics campaign which he admits is ?not my greatest so far? Hammond knows that Paris-Roubaix is his last chance to put that right. But it?s also his best, and that could be what counts.
RELATED LINK
The best Paris-Roubaix video clips on the web
The Paris-Roubaix Preview
Thank you for reading 20 articles this month* Join now for unlimited access
Enjoy your first month for just £1 / $1 / €1
*Read 5 free articles per month without a subscription
Join now for unlimited access
Try first month for just £1 / $1 / €1