Hayles defies Downings to take Blackpool Tour Series round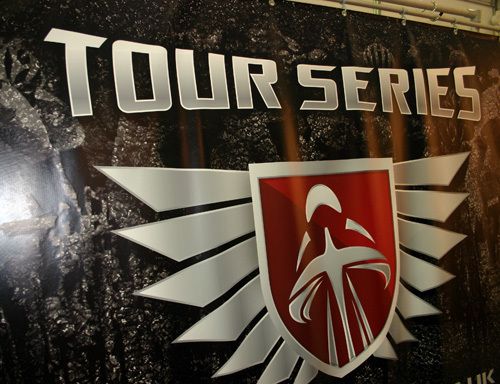 Rob Hayles beat the Downing brothers to the line as Round 5 of the Tour Series produced the first successful breakaway.
Hayles (Halfords), along with Tom Barras (Madison.co.uk), Russell Downing (Candi TV-Marshalls Pasta) and Dean Downing (Rapha-Condor) rode clear 45 minutes from the end of the Blackpool circuit. With one rider from all the top four teams in the standings represented in the break, the bunch let them go, despite the late efforts of both Endura and Corley Cycles to pull it together again.
A tight hairpin bend 200 metres from the finish line was the springboard for Hayles to power for home, beating Russell Downing, who was looking for a hattrick of wins after two victories over the weekend in other events, into second place. His brother Dean was once again the only Rapha-Condor rider to finish in the top 10.
Thirty seconds behind the lead group, round four's winner Halfords' Ian Wilkinson edged out Candi TV's Malcolm Elliott to claim fifth place and contribute to another team-winning performance.
"I tried to get the guys organised at the front of the chase", Wilkinson told Cycling Weekly, "because I could see splits occurring, and I didn't want us to get caught out."
Halfords remain in fourth place overall, five points behind leading team Candi TV.
Now at the halfway stage, the Tour Series moves on to Southport on Thursday night.
Highlights of round five can be seen on ITV4 at 7pm on Wednesday.
Team results, round five, Blackpool

1. Halfords Bikehut
2. Candi TV–Marshalls Pasta
3. Madison.co.uk
4. Rapha–Condor
5. Sigma Sport Cycling Team
6. Sports Beans–Wilier
7. Endura Racing
8. Team Corley Cycles
9. Cyclingbargains.com
10. BMC UK Racing Team
Individual results, round five, Blackpool

1. Rob Hayles (Halfords Bikehut)
2. Russell Downing (Candi TV–Marshalls Pasta)
3. Dean Downing (Rapha-Condor)
4. Tom Barras (Madison.co.uk)
5. Ian Wilkinson (Halfords Bikehut)
6. Malcolm Elliot (Candi TV–Marshalls Pasta)
7. Tony Gibb (Madison.co.uk)
8. Yanto Barker (Sigma Sport Cycling Team)
9. Ed Clancy (Halfords Bikehut)
10. Graham Briggs (Candi TV–Marshalls Pasta)
Team standings after round five

1. Candi TV–Marshalls Pasta
2. Madison.co.uk
3. Rapha–Condor
4. Halfords Bikehut
5. Sigma Sport Cycling Team
6. Sports Beans – Wilier
7. Team Corley Cycles
8. BMC UK Racing Team
9. Endura Racing
10. Cyclingbargains.com
RELATED LINKS
Wilkinson wins in Peterborough (round four)
Tour Series, Peterborough round 4 photo gallery, by Paul Watson
Tour Series round 4 preview
Downing claims second Tour Series win in Woking
Tour Series, Exeter - photo gallery by Paul Watson
Dean Downing wins in Exeter
Briggs wins first round of Tour Series
Cycling Weekly British team profiles
Premier Calendar
EXTERNAL LINKS
Tour Series: www.tourseries.co.uk