Honorary Degree for Lincoln GP organiser Ian Emmerson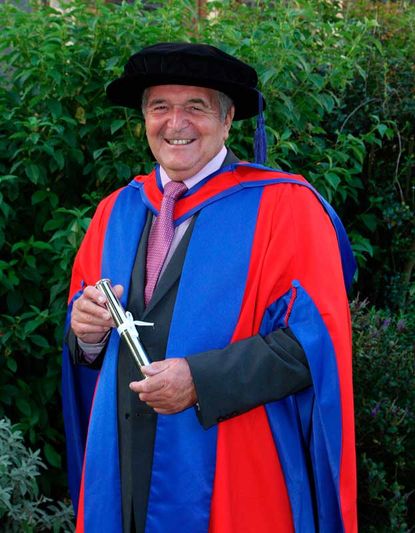 Ian Emmerson OBE, organiser of the annual Lincoln Grand Prix joined a host of other luminaries to collect an honorary degree at the University of Lincoln recently.
Among them were eminent scientist Professor Lord Robert Winston, who received an Honorary Doctorate of Science, and Alan Rusbridger, editor in chief of both The Guardian and The Observer, who received an Honorary Doctorate of Letters.
Emmerson received an Honorary Doctorate of Science. He was "excited, thrilled, honoured and humbled", he said upon opening the envelope with his nomination.
Emmerson is "Mr Lincoln" in every sense of the word, read the citation. He served as Sherriff of Lincoln in 1990/91, was president of British Cycling Federation for 10 years, and was awarded an OBE for services to cycling in 1994. He has also organised the Lincoln GP, the most popular Premier Calendar Series event, since 1963.
Emmerson also set up Impsport in Lincoln, manufacturing sportswear, including cycle racing kit, and sporting equipment. He has held a host of the official positions, serving on the British Olympic Committee, as vice-president of the UCI, and he is currently an executive board member of the Commonwealth Games, and President and Chairman of the Lincolnshire Sports Partnership.
"I was truly honoured to receive this prestigious award from my home town university," he commented. "The city has prospered so much since the University moved to Lincoln and I'm delighted it is going from strength to strength as an institution."
Thank you for reading 20 articles this month* Join now for unlimited access
Enjoy your first month for just £1 / $1 / €1
*Read 5 free articles per month without a subscription
Join now for unlimited access
Try first month for just £1 / $1 / €1